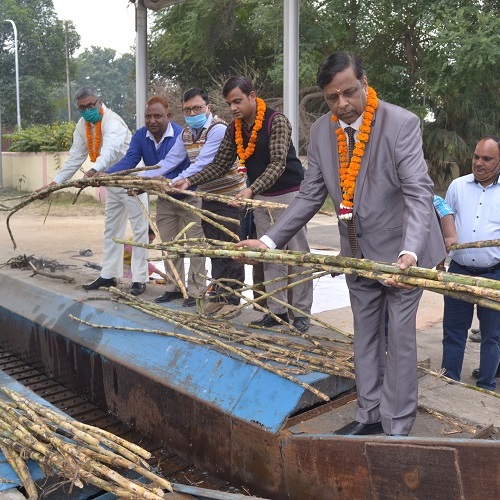 Kanpur: Crushing season of the Experimental Sugar Factory of the institute commenced today with Prof. Narendra Mohan, Director carrying out the sugarcane carrier Pooja. The factory is expected to be operated to impart "hands on" training to the students of the Sugar Technology first year courses. Ours is the only sugar institute in the world where such facility is available to the students for getting insight to sugar plant operations with opportunity to work with their own hands, said Prof. Mohan. This provides better understanding and confidence, thus, the students of the institute are in great demand and working in many sugar producing countries across the globe, he added. During the sugar factory operations, the students from overseas country shall also get their preliminary training.
To apprise the students about latest technological advancements and make the training meaningful, institute has taken adequate measures by installing variable frequency drives at sugarcane crushing mills, mass flow meters, fully automatic and continuous centrifugal. We will produce sulphitation sugar, raw sugar and refined sugar during the season so that students become aware of the processing techniques followed for producing different sugar qualities, said Shri S K Trivedi, Assistant Professor & Production Head of the factory.

We are also going to carryout trials of various technologies during the present run of the sugar factory out of which purification of condensate through enzymatic treatment, followed by active carbon and reverse osmosis is one to convert it into potable grade water, said enthusiastic Shri Anup Kanaujia, Assistant Professor & Engineering Head. The success will lead to making sugar factory a resource for providing water to society which may also lead to additional income.