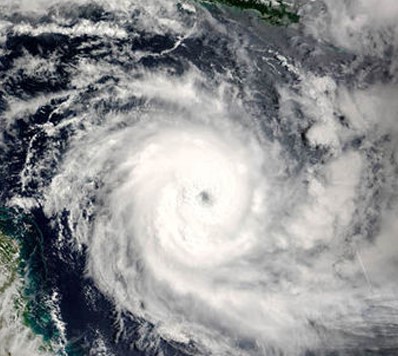 As per the reports by Skymet Weather India, a private weather forecasting company, after gaining more strength, the cyclonic circulation has finally induced a low-pressure area. The system is presently marked over Southeast Bay of Bengal and Equatorial Indian ocean. It continues to move west-northwest and gaining latitude.
The low-pressure area has become a compact circulation, which is a sign of organization. In fact, weathermen are of the view that the system is showing enough signs of depression, which is likely to form shortly, most likely in less than 24 hours.
The system has a dense circular cloud mass with a feeder band, which are the prominent features of depression or even deep depression.
The likely depression would continue to travel in favourable weather conditions of warm sea surface temperatures to the tune 30°C and low vertical wind shear. Long sea travel will continue to feed moisture, which is expected to further enhance the intensity of the system. Moreover, MJO is still in the close vicinity of the Indian Ocean
Skymet added that the system is to strengthen into a tropical storm during the subsequent 24 hours i.e. by either by evening of April 27 or early morning of April 28. It is to be named as Cyclone Fani. By this time, it would have reached Southwest Bay of Bengal, close to Sri Lanka.
Gradually, it will come in close proximity of North Tamil Nadu coast in the Southwest Bay of Bengal. Weather models are then showing the tendency of the system to move more of north-northwestwards and re-curve thereafter.
As mentioned before, it is already a slow-moving system and if the system re-curves, it is likely to further make it slower. This means that the system may become more intense and spend more time in the proximity of Tamil Nadu coast, resulting in good rains over the state including Chennai for a prolonged period.