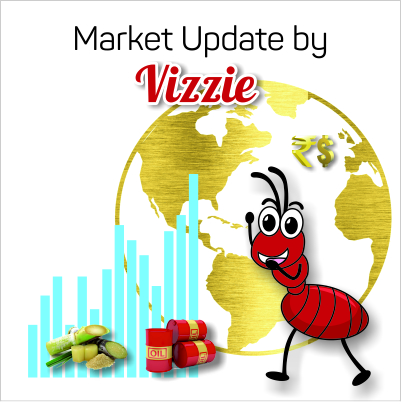 ChiniMandi, Mumbai – Wednesday, 23rd January 2019
Domestic: As the end of the month is around the corner with a few holidays lined up too, the domestic market witnessed mixed sentiments. With a look at Maharashtra, ready goods were discounted from ₹2880-₹2900 by a few traders whereas the rates millers quoted today were as follows, Kolhapur belt ₹2900 to ₹2920, Pune-Ahmednagar belt ₹2900 to ₹2910. Major mills have opened their tenders at 2900. In Uttar Pradesh, M/30 was traded at ₹3120 to 3180. In Gujarat, S/30 was traded at ₹3040. (Rates are excluding GST). Meanwhile, In Kolkata, S/30 was traded at ₹3440 to ₹3450 Including all taxes.
• International: The overall demand was quite good. London White Sugar is trading at $349.50, whereas US Sugar is trading at $12.95.
The FOB indication for raw sugar was at $302-$305 and Indian White Sugar at $316-$319
The demand of Raw Sugar range was ₹18800-19000/mt and White Sugar ₹19500-₹19800/MT on Ex.factory basis.
• Currency & Commodity: USD traded with INR at 71.330 meanwhile USD traded with BRL at 3.791, Crude Futures traded at ₹3829, WTI $53.49
• Looking at indices, Equity benchmark Sensex Wednesday tumbled over 336 points to end at 36108 on the emergence of intense selling towards the fag-end mainly in FMCG, financial and IT stocks, while renewed concerns over US-China trade tiff further jolted investors' sentiment. Similarly, the NSE Nifty slumped over 91 points to close at 10831.
Powered by ChiniMandi.com