ChiniMandi, Mumbai: 17th January 2022
Indian Market Updates
◾ Latest Update on Sugar Season 2021-22 by ISMA
According to the latest update by Indian Sugar Mills Association (ISMA) 504 sugar mills were in operation in the country as on 15th January 2022 and have produced 151.41 lac tons of. This is 8.63 lac tons higher as compared to last season's production for the corresponding period.
Statewise Sugar Production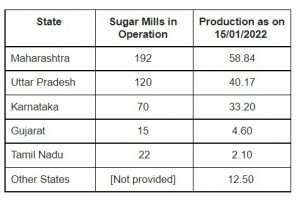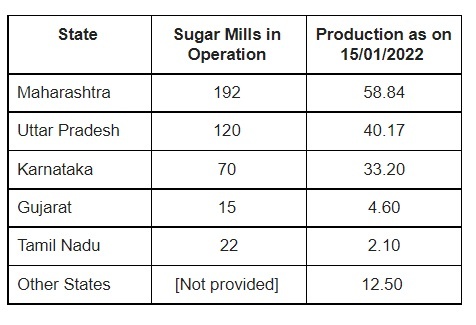 Domestic Trade Market
Most of the markets were closed on the occasion of Makar Sankranti. No major movement took place.
State wise prices today:
◾ Maharashtra:S/30 Sugar rates from millers are ₹3150 to ₹3225/Qntl. whereas M/30 ₹3245 to 3325/Qntl.
◾ Karnataka : S/30 Sugar rates were ₹3250 to 3300/Qntl. whereas M/30 ₹3300 to 3350/Qntl.
◾ Uttar Pradesh: The rates for M/30 were at ₹3475 to 3510/Qntl.
◾ Gujarat: S/30 Sugar rates are ₹3241 to 3351/Qntl. whereas M/30 rates are at ₹3321 to 3451/Qntl.
◾ Tamil Nadu: S/30 Sugar rates are ₹3425 to 3500/Qntl. whereas M/30 rates are at ₹3475 to 3550/Qntl.
(All the above rates are excluding GST)
International Trade Market
Yesterday sugar futures contracts closed lower on international exchanges. London white sugar #5 (SWH22) closed down -6.00 whereas US sugar #11 (SBH22) closed down -0.25 (-1.36%).
The London White Sugar front month contract is trading at $507.80/ton, whereas the New York Sugar front month contract is trading at 18.31/lb.
Currency, Commodity & Indian Indices:
The rupee traded against the US dollar at 74.287, whereas USD was trading with BRL at 5.5062, Crude futures traded at Rs.6230, Crude WTI traded at $83.31 barrel. Sensex closed 85.88 points higher at 61,308.91 whereas Nifty ended 52.35 points higher at 18,308.10.
Shree Renuka Sugars up 2.72%, Dalmia Bharat Sugar & Industries up 3.73%, Dhampur Sugar Mills up 2.72%, DCM Shriram Industries up 2.29%, BajajHind up 1.78%, Bannari Amman Sugars up 1.57% and Uttam Sugar Mills up 1.53%. All these stocks were among the top gainers today.