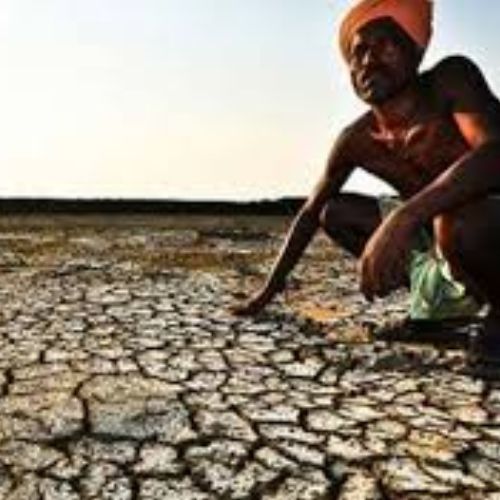 To Listen to this News click on the button below the image
Aurangabad, Maharashtra, May 21 (UNI) With every day, the water situation in drought-prone Marathwada is becoming grimmer.

The Congress workers here on Tuesday held a 'rasta roko' (road blockade) agitation at the Daulatabad in Phulambri taluka alleging that the state government has failed to resolve the grievances of drought-affected farmers.
The agitators led by former MLA Dr Kalyan Kale, demanded from the district authorities immediate reimbursement on Rs 50,000 each to all drought-affected farmers, setting up of fodder camps for animals and provision of jobs under the MNREGA scheme.
On Monday, Nationalist Congress Party MLA from Vaijpur, Bhausaheb Chikatgaonkar, sat on a hunger strike in front of Godavari Marathwada Irrigation Development Corporation (GMIDC) here, demanding release of water from Nandur Madhmeshwar to drought-affected villages in Vaijapur and Gangapur talukas.
"The water stocks in Manyad and Galmodi irrigation projects will be exhausted within a week. I fear that the water won't be available to the people and cattle." the legislator asserted.
If water is not available, the affected won't have any option but to migrate from their respective villages, the NCP MLA alarmed.
According to official data, 26 reservoirs in Maharashtra have reached "zero storage" as on May 18.
Only 0.43 per cent of water is left in Aurangabad region which comprises of Beed, Hingoli, Parbhani and Osmanabad districts.
Last year at this time it was 23.44 per cent.
Southwest summer monsoon was inadequate last year. Marathwada region, which falls in the rain shadow area and largely depends on monsoon rains, was the worst hit. It received 36 per cent less rains than normal, according to the India Meteorological Department (IMD).
The situation can further worsen as IMD as well as global agency Skymet have forecast a "delayed" monsoon this year.
"If it does not rain in June, the situation will become worst since last decade," a social activist claimed as quoted by a media report.
In last five years, 4,700 farmers have committed suicide in Marathwada, including 947 last year.
NCP president Sharad Pawar met Maharashtra Chief Minister Devendra Fadnavis last week over the drought issue in the state.
Meanwhile, Mr Fadnavis has directed the guardian secretary of each district to visit drought-affected areas and submit their reports by Tuesday.