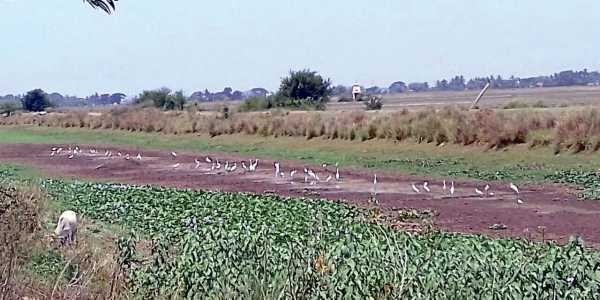 KENDRAPARA: THE slow pace at which renovation works are being carried out along the canals has affected cash crop growers of the district. While all the four major canals in the district have dried up due to non-supply of water, farmers apprehend that repair work may not be completed before the onset of monsoon. A villager of Mangalpur Tapan Swain said, "Each year, we get water from canal during summer. But this year, the dried Marsaghai- Jamboo canal has affected cash crops like jute, sugarcane and vegetable cultivation. Farmers have lost all their hopes to raise summer crops."
As per reports, a large number of canal side farmers grow sugarcane and jute in the summer. But lack of flow of water from Kendrapara, Pattamundai, Jamboo and Marsaghai canals has added to the woes of the farmers. Sugarcane and jute growers are in a distress condition as their crops have started wilting due to nonsupply of water in the canal by the Irrigation department. Marginal farmers, who are solely dependent on canal water, are the worst sufferers. Cracks have developed in the land due to nonavailability of water in the canal, sources said. When contacted, Executive Engineer of Irrigation department Prabodh Kumar Rout said, "All the canals of the district get water in summer from Jobra barrage at Cuttack.
The renovation work is going on in full swing at Salepur and downstream areas of the main canal. For this, supply of water has been stopped. We will release water in July after completion of renovation work." Umesh Chandra Singh, a farmers' leader and secretary of district unit of Krushak Sabha, said due to lack of foresight of irrigation officials, the canals started drying up three months back. While a farming crisis looms large over the people living by the side of the canal, livestock have also been affected due to nonavailability of water in the canals, he added and demanded that renovation work be stepped up.