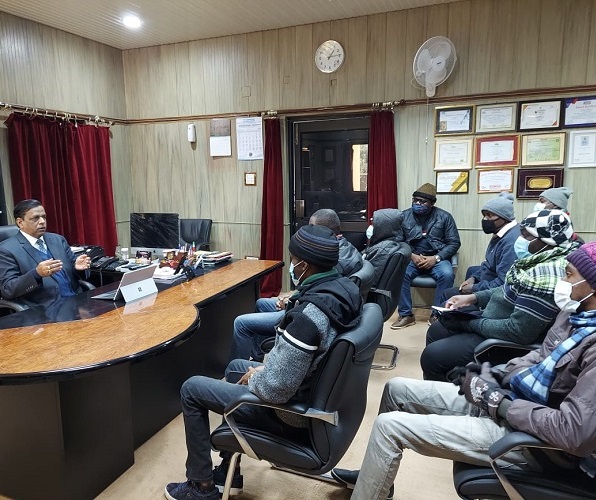 Luccknow: Eight faculty members of Nigerian Sugar Institute arrived at National Sugar Institute, Kanpur for undertaking "Faculty Development Programme" from 1st February 2021. These faculty members shall be imparted training on topics related to Sugar Technology, Sugar Engineering, Industrial Instrumentation & Process Automation and Quality Control & Environment Science. Out of the eight faculty members, four shall undertake the training for six months while others for a year depending upon the syllabus drawn keeping in view the requirement, said Prof. Narendra Mohan, Director, National Sugar Institute, Kanpur. The faculty members already have teaching experience in engineering colleges and thus they are required to be updated on configuration of plant & machinery, its operation & maintenance and on processing technique only.
We have designed the course considering their qualifications, prior experience and requirements for conducting classes at the Nigerian Sugar Institute which has been inaugurated on 28th January 2021. While we shall conduct theory classes and practical training at the Experimental Sugar Factory of the institute, they shall also be deputed to commercial sugar factories for wider exposure for which we have already tied up with one of the sugar factory, informed Prof. Mohan. National Sugar Institute, Kanpur is providing total technical support for establishing the Nigerian Sugar Institute and has drawn the details of Organizational Set Up. Apart from preparing syllabus for various courses we have also drawn requirements for class rooms, laboratories and library etc., informed Director, National Sugar Institute, Kanpur.

National Sugar Institute shall conduct more such programmes in future as per the requirement of Nigerian Sugar Institute. Side by side, experts from National Sugar Institute, Kanpur shall visit the sugar institute at Nigeria to deliver expert lectures and to guide on various matters.