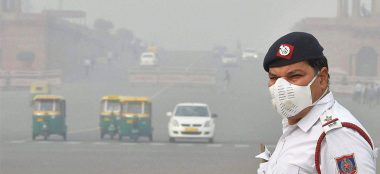 The national capital's emergency action plan to fight 'very poor' and 'severe' air pollution level rolls out from today, starting with a ban on diesel generator (DG) sets in Delhi, at a time when the city has already encountered nine days of 'poor' air quality in the first two weeks of October.
This is the second year of the Graded Response Action Plan (Grap), which was implemented in 2017.

"Measures listed under Grap to fight 'very poor' and 'severe' categories of air pollution will be rolled out from October 15. This will continue till March 2019," said Sunita Narain, member of the Supreme Court-appointed panel Environment Pollution (Prevention and Control) Authority (Epca), which enforces Grap.
"With Grap being rolled out from Monday, there will be a ban on diesel generator (DG) sets in Delhi. DG sets will, however, be allowed to operate in NCR towns because it would be impractical to ban them outside the national capital, where there is still a problem of power supply," said Narain.
Other stringent measures, such as a ban on construction activities, ban on stone crushers and hot mix plants, enhancing parking fees, and rolling out the odd-even road rationing scheme, will be implemented if the air quality deteriorates further and reaches the 'severe' or 'emergency' categories.
In November 2017, schools were shut when air quality turned 'severe' for more than a week.
Now that monsoon has ended and winter is approaching, the city's air quality has started dipping, though the air quality index (AQI) hasn't touched 'very poor' or 'severe' levels yet.
On Sunday, AQI was 204. The air quality usually breaches the 'severe' zone — when the AQI reading shoots up to five times above the safe limit — in November. On November 9, 2017, AQI shot up to 486 on a scale of 0-500, underscoring conditions that prompted the Delhi government to declare a public health emergency and describe Delhi as a "gas chamber".
An AQI in the range of 0-50 is considered 'good', 51-100 'satisfactory', 101-200 'moderate', 201-300 'poor', 301-400 'very poor' and 401-500 'severe'.
"The use of coal has been banned in Delhi by the state government since July this year. But if air quality deteriorates to 'severe' levels in NCR towns, we might have to ban the use of such polluting fuels in NCR towns as well for some days," said a second Epca member who asked not to be named.
The South Delhi Municipal Corporation (SDMC) directed NBCC on Sunday to immediately stop all construction and demolition activities in the Pragati Maidan redevelopment project.
SDMC commissioner Puneet Goel said, "The civic agency is committed to strictly enforcing the directions of the Environment Pollution (Prevention and Control) Authority. We have asked NBCC to immediately stop all construction or demolition activities at site or face the action under Delhi Municipal Corporation Act 1957."
In May, Delhi was declared the world's most polluted city, according to the air quality data compiled by the World Health Organisation (WHO) for megacities with a population of 14 million or more. Greater Cairo in Egypt was the second most polluted city, followed by the Bangladesh capital, Dhaka. Mumbai was fourth and Beijing fifth.
While measures listed under Grap to control 'moderate' and 'poor' levels of pollution are enforced in the summer and monsoon months, measures to control 'very poor' and 'severe' categories of pollution are enforced from October 15 to March 15 of the following year.
Experts say that Delhi is better equipped this year to fight pollution because a series of steps have already been taken. One of the most important measures is installing the early warning system that can predict air quality levels two days in advance.
"Polluting fuels such as coal, kerosene, furnace oil and pet coke have already been banned in Delhi. While on one hand teams comprising officials from CPCB have fanned out across Delhi and NCR towns, environment marshals deployed by the Delhi Pollution Control Committee (DPCC) are also flagging violations such as open garbage burning and open construction sites. A section of trucks are also being diverted through the Eastern Peripheral Expressway," said a senior official of Delhi government's environment department who asked not to be named.
Civic bodies have also increased their intensity of mechanical sweeping of roads and sprinkling of water to control road dust.
"Delhi has taken up a series of measures this time to control pollution levels. But unfavourable meteorological factors such as drop in wind speed and upper air winds bringing in dust from west Asia plays a major factor behind the occasional spikes in pollution levels," said D Saha, former head of the city's ait quality laboratory.
With snowfall in the hilly regions of Himachal Pradesh and Jammu & Kashmir, there is already a nip in the air in Delhi, according to weather experts. On Sunday, the minimum temperature in Delhi was recorded as 17.3 degrees Celsius, which is two degrees below normal.