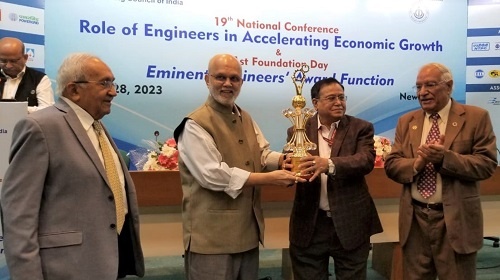 Pune, May 3, 2023: Praj Industries' Founder Chairman Dr. Pramod Chaudhari was bestowed with Eminent Engineer Award by Engineering Council of India (ECI) in the industry category. Dr. Chaudhari received this award at the hands of Dr. V K Saraswat, Member, Niti Aayog during ECI's National Conference & Foundation Day, on 28th April 2023 in New Delhi.
Engineering Council of India (ECI) is the apex body for the engineering profession and works for the advancement of engineering profession in the country. It has been organizing National Conferences and different activities on important themes relevant to the engineering profession's role in national economic development.
ECI has been giving Eminent Engineers Awards every year since 2012 to professionals for their exemplary contributions in engineering in the industry and research category. The past recipients of this award in the industry category include stalwarts like Mr. N R Narayana Murthy, Mr. Mukesh Ambani, Mr. Baba Kalyani, Mr. Nandan Nilekani etc. While recipients in the research category include Dr. Anil Kakodkar, Prof. M. M. Sharma, Dr. Tessy Thomas among others.
During his address, Dr. V K Saraswat, Member, Niti Aayog lauded the contributions of Dr. Pramod Chaudhari in integrating engineering with basic sciences. He emphasized important role of engineers in overall growth story of Indian economy including infrastructure development.
On receiving this award, Dr. Pramod Chaudhari said, "I thank esteemed jury panel for acknowledging my efforts in mainstreaming bioeconomy. This award is not just recognition of Praj's innovative contributions in bioeconomy but also encouragement to entire bioenergy fraternity. I dedicate this award to my professors and mentors who have always been a source of inspiration. This will motivate me to strive harder to conquer new frontiers in bioeconomy."
This year, the high-level Jury for this award consisted of Dr. Kirit Parikh (former Member, Planning Commission), Dr. R.A. Mashelkar (former Secretary, DSIR), Mr. B Muthuraman (Former Vice Chairman- Tata Steel), Dr. D V Kapur (Former Secretary, Heavy Industry and founder Chairman, NTPC) and previous Eminent Engineer awardees- Dr Vijay Bhatkar and Dr Aniruddha Pandit.