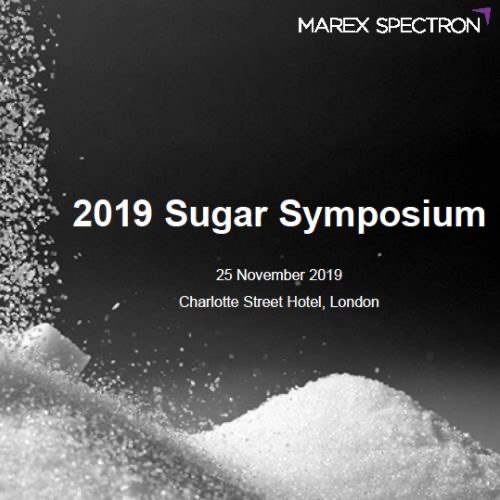 Brazil once the leading sugar producer in the world market is now feeling the heat as other sugar producing countries' production has ramped up in last couple of years. One of the predominant reasons has been the sedate shipments as the demand from Indian subcontinent has diminished from Brazil with Indian subsidized exports making more sense.
Speaking at the 2019 Annual Sugar Symposium by Marex Spectron, Patrice Bougalt – M.D. – La Trinite Group expressed his views on what next with respect to Brazil. Where stocks can be seen increasing 1.5mn MT stocks YoY, Brazilian millers are forced to adjust production drastically. 1.3 mn cubes additional ethanol was produce which is equivalent to 2mn MTs of sugar getting diverted to ethanol. A surge in ethanol demand also triggered a longer tail which has helped the Brazilian millers build larger ethanol stocks
Millers have been able to take advantage of the ethanol demand surge and were able to reduce their losses with better demand optimization of ethanol throughout the campaign which was result of pump ratio increasing fast as the crude rallies. Hydrous returns are seen at closer to 13 to 14cts/lb. Strong hydrous price also helps the millers' bottom line thus helping the crippling sugar economy.
With ethanol exports also surging, the millers are seeing better economics in exports of both sugar and ethanol Brazil due to weaker BRL and of course better economics directly supports acreage (7.8mn Ha). Here, the normal weather also supports yields; the next year goal of the Brazilian millers is to maximize the assets. Minimum sugar production is seen at 25.5/26myn MT. With ethanol parities close to 14cts/lb, the current prices aren't strong enough to give a greater signal to the sugar mix.
The only bad news with regards to the ethanol demand is that FFV fleet increase has taken a slow pace. As per the statistics, there are a total of 30m FFV and the sales growth is down to 4.5% per annum. The total fleet is 38mn and growth has shrunk to 1.6% per annum. With this, high inflation and slowdown in the Brazilian economy is clearly reflected through the automobile sector.
In abstract, Brazil has gained competitiveness in Sugar and Ethanol exports through weaker BRL. Maximizing assets remain a priority for the industry bottom line. Ethanol fundamentals are solid and will remain the Brazilian miller's best friend going forward supporting the bottom line. Hence, sugar mix will once again gain in flexibility through investments & debottlenecking.
To Listen Exclusive Insights: "Brazil's Way Forward" – Marex Spectron Annual Sugar Symposium News click on the play button.