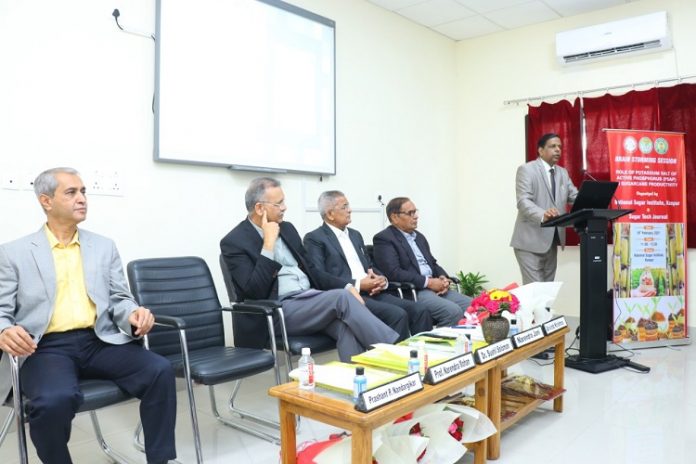 One day brain storming session on "Doubling the sugarcane farmers income through innovative techniques" was organized today by the institute jointly with Sugar Journal. The session was attended by eminent scientists from Indian Agricultural Research Institute, New Delhi, Indian Institute of Sugarcane Research, Lucknow, UP Council of Sugarcane Research, Shahjahanpur along with officials from sugar factories situated in various sugar producing states.
In his inaugural address, Dr. Sushil Solomon, Ex. Vice Chancellor, CSA University of Agriculture & Technology called upon the sugar factories to take up extension activities for propagating newer sugarcane varieties, carrying out inter cropping, adopting novel techniques of irrigation and application of fertilizer as per requirement. Farm mechanization is one area where we have to work upon to enable faster harvesting and crop residue management.
Prof. Narendra Mohan, Director in his address stressed upon use of innovative products viz. Potassium Salt of Active Phosphorous (PSAP) in enhancing the sugarcane productivity. We are conducting trials of the product from the last two years at our institute farm and yield of sugarcane has been observed to be increased by about 50% or even more with better juice quality. Since, we are focusing on producing ethanol directly from sugarcane juice to meet ethanol blending requirements, we need more sugarcane to cope up with sugar & ethanol requirements. Since it is not possible to increase area under sugarcane cultivation, vertical growth or yield enhancement is the only solution.
Dr. Ashok Kumar, Asstt. Professor presented the details of trials with PSAP and informed that with its application, an additional investment of about Rs. 16,000 per hectare, income of the sugarcane farmer can be increased by Rs. 65,000 per hectare.
Mr. Prashant P Nandargikar presented details of trials of PSAP carried out at IISR, Lucknow, UPCSR, Shahjahanpur, CSA University of Agril & Tech., Kanpur, NSI, Kanpur and Central Sugarcane Research Station, Padegaon. We have obtained very encouraging results and PSAP is going to be the game changer, he said.
The delegated also had a look at "Modified Rain Irrigation System" installed at the institute farm system which is working efficiently and ensures better productivity of sugarcane with lower irrigation water requirements.