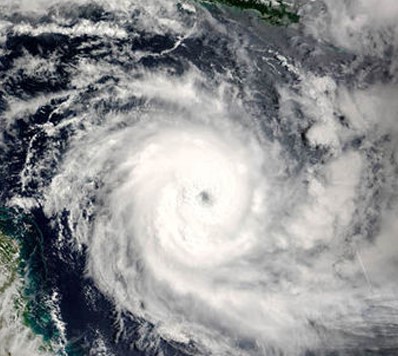 As per the reports by Skymet Weather India, a private weather forecasting company, the Extremely Severe Cyclonic Storm Fani over West-central Bay of Bengal moved north-northeastwards with a speed of about 07 kmph in last six hours and lay centered at 0230 hrs IST of 02nd May, 2019 over West-central Bay of Bengal near latitude 15.5°N and longitude 84.2°E, about 510 km south-southwest of Puri (Odisha), 260 km south-southeast of Visakhapatnam (Andhra Pradesh) and 700 km south-southwest of Digha (West Bengal).
In Odisha, Andhra Pradesh and West Bengal at least 19 districts are expected to get affected by the extremely severe cyclonic storm Fani, which is likely to cross Odisha Coast between Gopalpur and Chandbali, around Puri during 3rd May afternoon

The cyclone will pass through Jagatsinghpur, Kendrapara, Bhadrak and Balasore in Odisha before reaching West Bengal with a maximum sustained wind speed of 170-180 kmph gusting to 200 kmph. The storm is likely to impact Ganjam, Gajapati, Khurda, Puri, Jajpur and Balasore districts.
The storm is likely to move northwestwards in the next 12 hours and recurve north and northeastwards afterwards.
The government of Odisha has set up 900 cyclone shelters to house the evacuees and has requested for two helicopters to be stationed in the state for emergency food distribution.
In addition to this, troops of the Indian Navy and the Indian Coast Guard as well as 78 teams of the National Disaster Response Force have been requested for deployment as well. The country's top body to handle an emergency situation, NCMC has also reviewed the preparations for Fani.
The NDRF has deployed 12 teams in Andhra Pradesh, 28 in Odisha and 6 in West Bengal. Additionally, 32 teams remain on standby, equipped with boats, tree cutters and telecom equipment.
As per officials, the Navy and the Coast Guard have organized ships and helicopters for relief-and-rescue operations, while the Army and Air Force units in the three states have also been put on replacement.
The administration of Odisha has been directed to ensure a 100% evacuation of people from vulnerable areas. He also highlighted on an early restoration of power, water supply and road communication in the to-be affected blocks.
By Thursday, the state plans to evacuate 10 lakh people states Odisha's Special Relief Commissioner as well.
In the view of cyclone Fani, the Biju Patnaik University of Technology postponed all examinations from May 2-4 to May 25-28. In fact, as a precautionary measure, Bhubaneswar's Nandankanan Zoological Park will also remain closed for visitors from May 2-4.
In West Bengal, the cyclone is expected to affect the districts of East and West Medinipur, South and North 24 Parganas, Howrah, Hooghly, Jhargram and Kolkata, while Srikakulam, Vizianagaram and Visakhapatnam are in the storm's path in Andhra Pradesh.