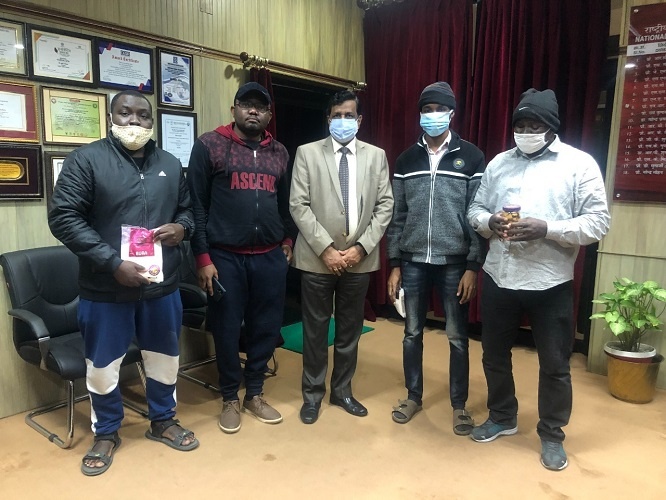 Kanpur: Four faculty members of Nigerian Sugar Institute left for Nigeria after completing their one year "Faculty Development Programme" at National Sugar Institute, Kanpur. The training programme was conducted under the provisions of MoU between National Sugar Institute and Nigerian Sugar Development Council. The Nigerian Sugar Institute has been established under the guidance of National Sugar Institute, Kanpur so as to provide competent technical power for Nigerian Sugar Industry. During the first phase Mr. Oladipo Sulaiman Adewale, Mr. Ojo kupoluyi Oluwatosin, Mr. Ehikioya Michael Osajie and Bello Mujib undertook the training.
Prof. Narendra Mohan, Director, National Sugar Institute, Kanpur informed that theoretical as well as hand on training was imparted to the Nigerian faculty members on various areas of sugarcane juice processing, energy & water conservation, co-generation of power, quality control, designing of process equipment and on automation. For wider exposure, practical training was imparted at the Experimental Sugar Factory of the institute as well as in a commercial sugar factory, he said.
The Nigerian Sugar Development Council has also invited National Sugar Institute, Kanpur to audit their Master Plan for expansion of sugar industry to achieve self sustainability by 2022 end. A team of National Sugar Institute, Kanpur led by the Director shall visit Nigeria as soon as the Corona implications normalize. We will evaluate the status of implementation of the plan, find out grey areas and furnish our recommendations to achieve the desired targets, said Prof. Mohan. At present, Nigeria produces only about 3% of its requirement and is heavily dependent on imports of sugar to the extent of about 1.6 million metric tonnes.