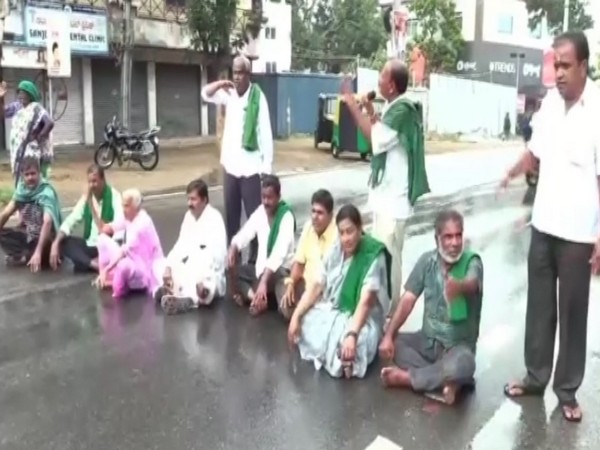 Mandya (Karnataka) [India], September 20 (ANI): Farmers in Mandya on Monday staged sit-in protest and blocked road in protest against the order of Cauvery Water Management Authority (CWMA), asking the Karnataka government to continue releasing 5,000 cusecs of water to Tamil Nadu for another 15 days.
The agitating farmers blocked the road near Vishweshwaraiah statue here, bringing the vehicular movement to a complete halt for several hours.
This came after the Cauvery Water Management Authority (CWMA), following its meeting in the national capital, reiterated the decision of the Cauvery Water Regulation Committee, asking Karnataka to continue releasing 5,000 cusecs of water to Tamil Nadu for another 15 days.
After the meeting, CWMA, in a press note said, "Taking note of the severity of the drought in the Cauvery basin of Karnataka, which has been increasing and enlarging putting at a greater risk even the drinking water needs and minimum needs of irrigation, Karnataka made submissions that it is not in a position to release the water unless the inflows into the reservoirs improves."
"In turn, Tamil Nadu urged for releasing a total 12,500 cusecs of water (which is inclusive of backlog of 6,500 cusecs) for next 15 days. Finally, CWMA duly upholding the recommendations of CWRC has ordered that Karnataka has to ensure 5000 cusecs realization at Biligundlu for the next 15 days as indicated by CWRC, effective from September 13," it added.
The next meeting of the Authority is scheduled for September 26.
Meanwhile, former Prime Minister H D Deve Gowda on Monday said that the "quarrel" among Karnataka and Tamil Nadu will not be solved "legally" and that a solution will come out only after both sides sit together.
The Rajya Sabha MP, with folded hands, requested Tamil Nadu and Karnataka to sit together and sort out the problem.
The governments of Karnataka and Tamil Nadu have been locked in a protracted tussle over the sharing of Cauvery waters. The river is seen as a major source of sustenance for the people in either state.
Karnataka has cited severe drought in parts of its state to refuse supply of water to Tamil Nadu. The Tamil Nadu Government has accused its neighbour of lying to the nation on the supply of water.
The Centre formed the Cauvery Water Disputes Tribunal (CWDT) on June 2, 1990, to adjudicate disputes between Tamil Nadu, Kerala, Karnataka, and Puducherry with respect to their individual water-sharing capacities. (ANI)