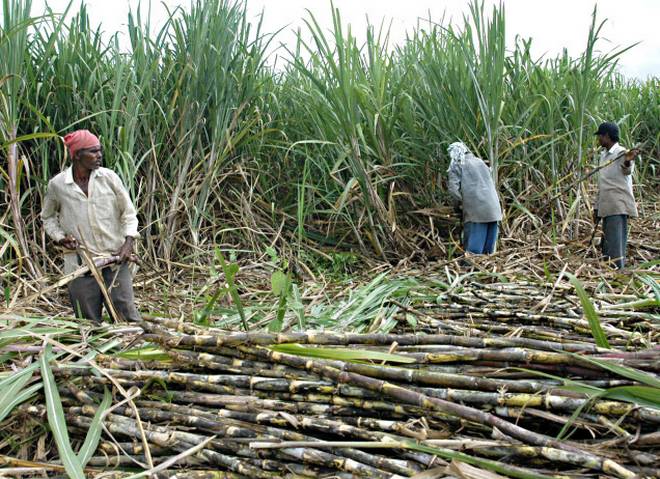 Image Credits: thehindu.com
Despite not being a major sugarcane-producing state, Uttarakhand has a high pendency when it comes to paying sugarcane farmers their dues.

As on March 23, the sugar mills in Uttarakhand have a cumulative pending arrear of ₹530 crore for 2017-18. This is the fourth highest in the country. The top three states are Uttar Pradesh, Karnataka and Maharashtra, that are also major producers of sugarcane.
States like Gujarat, Punjab, Andhra Pradesh, Bihar, Tamil Nadu and Haryana, all of which have a much higher sugarcane production than Uttarakhand this year, have lower pending arrears.
According to a written reply submitted by the central government in Parliament on Tuesday, Uttarakhand produced 2.72 lakh metric tonnes (MT) sugarcane in 2017-18, against 7.38 lakh MT in Gujarat, 4.82 lakh MT in Punjab, 4.38 lakh MT in Bihar and 4.24 lakh MT in Haryana.
However, these states fare better in terms of paying their farmers. For instance, Andhra Pradesh which produced 26% more sugarcane has arrears worth ₹293 crore pending (80% less than Uttarakhand); Gujarat produced 7.38 lakh MT (171% more than Uttarakhand) but has arrears of ₹475 pending (11% less than Uttarakhand).
The Sugarcane (Control) Order, 1966, states that the payment of cane price should be made within 14 days of supply to the mill, failing which the amount will attract a 15% interest per annum on the amount due after 14 days.
When asked about the high pendency, finance minister Prakash Pant said it was largely due to the delay by private mills.
"All arrears for 2016-17 have been cleared. Last year too, the government mills made the payments. In this season, most of the mills are still operating. Only the sugar mill in Bajpur has stopped processing. The payments have started. Let the mills first finish processing and make whatever payments they can. We will make necessary interventions if government mills are unable to pay farmers."
He however made it clear that the government will not extend any financial aid to private mills. "Our responsibility is to put pressure on them to make timely payments. We will allow them to operate only if they have cleared previous dues," he said.
Anand Shrivastav, commissioner, sugarcane and sugar, said the department was regularly sending notices to defaulting private mills.
"There are three private mills in the state and two of them are very regular in their payments. Only the Iqbalpur sugar mill is in a poor financial condition. It won't be surprising if it defaults this year too. They somehow managed to make their full payment for last year only by the crushing season of this year."
Meanwhile, owing to high production and low demand for sugar, mills across the country are expected to incur losses this year as the price of sugar is falling. The central government recently said in Parliament that it has enhanced the import duty on sugar from 50% to 100% to help mills in making payments to the farmers.
In this background, clearing pending arrears is likely to be an uphill task for sugar mills in Uttarakhand.
Agreeing on this, Pant said, "The mills are likely to incur loss this year because the price of sugar is falling due to high production. We will make arrangements for the remaining amount."
He however added that since the government has replaced around 60% sugarcane with a high-yielding variety, the recovery (quantity of sugar produced from raw cane) this year has been "very good".
Expressing hopes for a positive result, he said, "Whenever the recovery is more than 10%, it is seen that mills are in profit. On an average, this year the recovery has been 10.7%. Our estimate is that private mills will be in a better position this year. The loss due incurred due to falling prices of sugar should be balanced out with the high recovery."
Meanwhile, despite the government's assurance that it will help government mills in paying their dues, farmers are sceptical. They say that in absence of strict actions, sugar mills in the state have become habitual in making delayed payments.
"The crushing season started in November but farmers have received payments only till January 15. The condition of sugarcane farmers in the state is very bad," said Jagdish Thakur, vice-president, Bharatiya Kisan Sangh, Uttarakhand chapter.
Asked about last season's payments, he said that many mills made the payments only in the first month of this crushing season.
"Farmers can't rely on mills. The payments are untimely and uncertain. We are forced to avail loans from banks by mortgaging our property. The Sitarganj sugar mill would have benefited many farmers in the Terrai belt. But since it has been closed, farmers have been hard hit as they now have to transport their produce to far off mills," he said.