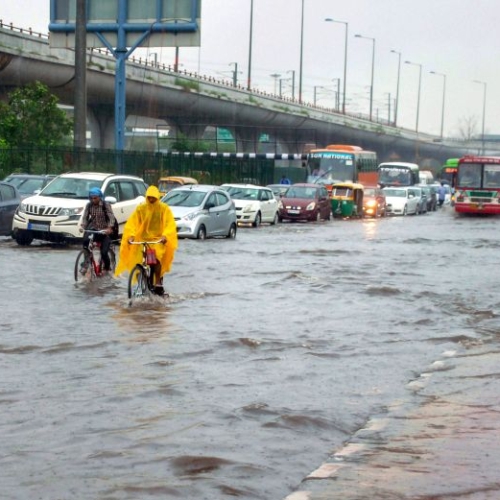 Mumbai: Heavy rain in Mumbai once again paralysed the city. According to the latest report, 16 people dead in the city and its neighourhood due to rain-related accidents.
As a precautionary measure, the Maharashtra government has declared a public holiday on July 2 (Tuesday).
According to the NDRF officials, at least 13 people were killed after a compound wall collapsed in Malad area here on Tuesday due to heavy rains. The incident happened around 2 am.
Due various incidents in the city and neighourhood, many others died.
The heavy rains continued to batter the city and many parts of Maharashtra for the fifth consecutive day, disrupting normal life and hitting air, road and rail traffic.
Overnight heavy spells of rain inundated at least 137 spots all over Mumbai, including Dadar, Sion, Matunga, Parel, Wadala, Mahim, Santacruz, Andheri, Jogeshwari, Malad, Dahisar and virtually halted all traffic movement, leading to huge traffic snarls since daybreak.
Flights to and from Mumbai's Chhatrapati Shivaji Maharaj International Airport were delayed by 35 minutes owing to heavy rain and low visibility, said an official.
Long-distance services on the Central Railway's Mumbai-Pune sector were hit following the derailment of at least four wagons of a goods train between Jambrung and Thakurwadi in the Monkey Hill section of the Western Ghats early on Monday.
Several Mumbai-Pune trains were cancelled, some diverted and other long-distance trains hit at various locations en route as the CR made frantic efforts to restore normalcy.
Railway tracks were flooded at locations like Matunga, Sion and Kurla, impacting the CR's suburban sector with trains running behind schedule, delaying lakhs of office-goers and students.
Similarly, road traffic took the brunt of heavy rain with water-logging being reported in several areas of the city, eastern and western suburbs, though a majority of the subways escaped flooding as the BrihanMumbai Municipal Corporation activated pumps to throw out the gushing rain water.
As students were stranded in the rain in different areas, some schools in and around central Mumbai declared a precautionary holiday.
The Maharashtra government has advised people to avoid stepping out of their homes as the weather department has forecast heavy rain. "Due to heavy rain forecast in Mumbai even today by IMD, People are advised to stay indoors unless there is any emergency," Chief Minister Devendra Fadnavis's office tweeted.
The Indian Navy has deployed several teams to provide relief to rain-hit and stranded people in Kurla area.