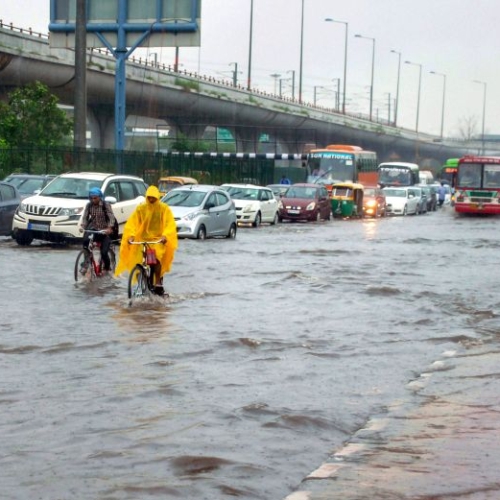 To Listen to this News click on the button below the image
Mumbai: A severe thunderstorm, accompanied by lightning and heavy rains lashed financial capital of India, Mumbai, on Friday morning, disrupting rail and road traffic and causing inconvenience to passengers travelling to their offices.

The first heavy rain of this season brought traffic to a halt in several areas of the city on Friday, with Western Express Highway highly impacted.
Earlier, the weather department had forecast heavy rain till June 29.
Though the visibility at Mumbai's Chhatrapati Shivaji International Airport has been recorded at 1500 metres, flight operations were not affected. However, according to the report, there was one diversion around 9 am.
The Waterlogging was reported in Andheri, Kurla, Chembur, Chunnabhatti, Mahalakshmi, and many other places in the city.
According to the BMC's disaster management cell, city witnessed around 17-22 mm of rains between 10am and 11am, with maximum rainfall of 22-30 mm rainfall in western suburbs and 16-23 mm of rains in the eastern suburbs.
According to the IMD, intense spells of rainfall likely to continue in the districts of Greater Mumbai, Thane, Palghar, Raigad in the next few hours.