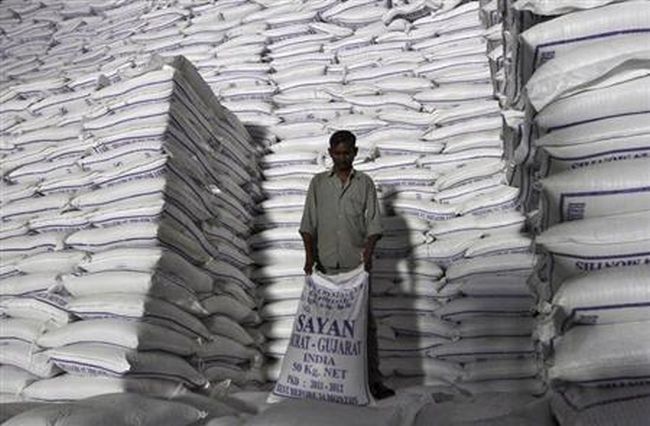 The food ministry has moved a draft Cabinet note on creating a sugar buffer stock of 3 million tonne and fixing a minimum ex-mill price to help cash-starved millers clear cane arrears which have surged to about Rs 22,000 crore.
This situation has been created due to sharp fall in sugar prices and record production.
The note follows a letter written recently by NCP chief and former agriculture minister Sharad Pawar to Prime Minister Narendra Modi suggesting immediate interventions to deal with huge sugar glut in the market.
India's sugar production has touched an all-time high of 31.6 million tonne (MT) so far in the 2017-18 season (October-September) on higher cane output, leading to a surge in cane arrears to Rs 22,000 crore, as per the official data.
"After deliberating Pawar's suggestions by both the Prime Minister's Office (PMO) and the Committee of Secretaries (CoS), the food ministry has prepared a draft cabinet note proposing 2-3 interventions," said a highly placed source.
The ministry has proposed setting up of a buffer stock of up to 3 MT sugar, fixing of a minimum ex-mill sale price at around Rs 30 per kg, re-introducing the monthly release mechanism and imposing stock limits on mills by fixing quota for each mill, the source added.
Presently, the average ex-mill price of sugar is in the range of Rs 25.60-26.22 per kg, below the cost of production.
Pawar in his letter had suggested several other interventions such as increase in ethanol price, ban on indiscriminate taxes imposed by states on movement of molasses and on sale of ethanol besides reduction in GST on ethanol from 18 per cent to 5 per cent.
The NCP chief had also sought a package to bail out cash-stressed mills.
Sources said that the petroleum ministry is looking into the ethanol issue, while the finance ministry on giving a financial package to millers.
Early this month, the government approved a production subsidy of Rs 5.5 per quintal for sugarcane farmers to help millers clear cane arrears.
The Centre has already doubled sugar import duty to 100 per cent and scrapped export duty to check sliding domestic prices. It has also asked mills to export 2 MT sugar.
Sugar output of India, the world's second largest producer, stood at 20.3 MT in the 2016-17 marketing year. The annual domestic demand is estimated at 25 MT.