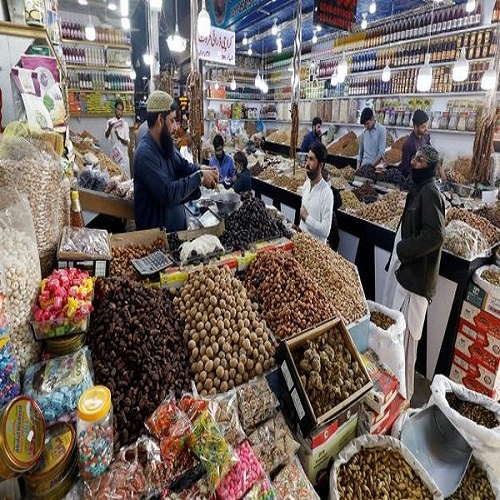 Peshawar [Pakistan], March 27 (ANI): Food prices in Pakistan continue to soar as the South Asian country is under a massive grip of economic crisis. The prices have skyrocketed amid the ongoing month of Ramzan, Geo News reported.
According to a vendor, the price of chicken has increased to PKR 350 per kg, and the price of rice has increased by PKR 70 per kg to PKR 335 per kg.
During a visit to markets in Khyber Pakhtunkhwa's (KP) capital city to check and compare edibles prices with those issued by the district administration, it was discovered that food prices have surged in the holy month, as per the report by Geo News.
In a separate statement, another vendor said that fruit prices have also risen over the last month. Sweet oranges cost PKR 440 per dozen, oranges cost PKR 400 per dozen, bananas cost PKR 300 per dozen, pomegranate costs PKR 400, Iranian apple costs PKR 340 per kg, Kohati guava costs PKR 350, and strawberries cost PKR 280 per kg.
Moreover, the skyrocketing prices also impacted the meat market, with beef previously sold for PKR 700 per kg, but now priced at PKR 800 and PKR 1,000 per kg, and mutton rates increased from PKR 1,400 to PKR 1,600 per kg, eventually reaching PKR 1,800 per kg.
"The rates issued by the district administration do not suit us," a butcher in the local market said, according to Geo News.
Rising food inflation in the country has hit Pakistanis particularly hard this year. The festival of prayer and lavish food preparations has been overshadowed by soaring inflation in the country. Tightened budgets have hit Pakistan's poorest hardest. (ANI)