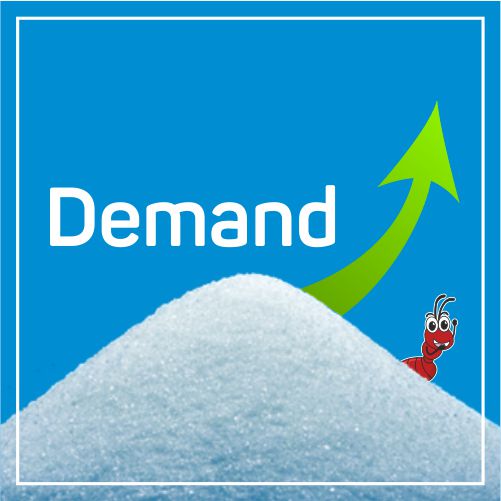 Demand for sugar rose across sugar markets nationwide based on the rumour that Minimum Selling Price (MSP) of sugar is likely to be hiked this week. Buyers seem to have been on a purchasing spree to hoard sugar whenever fresh rumours have hit the market and today was no different with sugar millers closing the sale. In Maharashtra, demand has been majorly witnessed from Kolkata & Guwahati for rakes.
Sugar prices across different markets have been as follows:
In Maharashtra: S/30 Sugar rates from millers are ₹3100 to ₹3150/Qntl whereas M/30 ₹3250 to 3270
South Karnataka: S/30 Sugar rates are ₹3170 to 3210 whereas, M/30 rates are ₹3205 to 3260.
Uttar Pradesh: The rates for M/30 are ₹3300 to 3350/Qntl.
Gujarat: The rates for M/30 are at ₹3171 to 3211/Qntl.
Tamil Nadu: S/30 Sugar rates are ₹3250 to 3350 whereas, M/30 rates are 3300 to 3375.
(All the above rates are excluding GST)
The several measures to give a boost to the Indian sugar industry include announcement on hike in MSP of sugar, export policy for the new sugar season 2020-2021, buffer stock measures and various other issues like soft loans etc. that haven't been heard from the Government of India are leaving stakeholders anxious and wide space for rally of sugar prices in the international market.