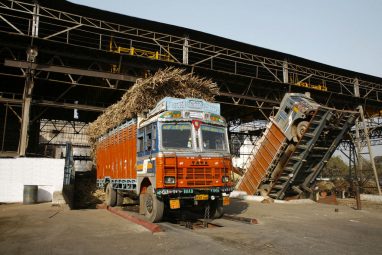 Two months after the commencement of cane crushing season in Satara district, only two mills, Ajinkyatara and Jaywant sugar mills, have given the first installments to the farmers. It seems instead of paying FRP at one go; mills opted for 80:20 formula. The other sugar mills in the district may follow the same footsteps.
Crushing in district's 14 sugar mills is ongoing with full speed due to the availability of labours in large numbers as the region is hit by severe drought. Ajinkyatara sugar mill has paid Rs 2,300 as first installments, whereas, Jaywant sugar mill deposited Rs 2,400 in the farmers' bank account. It has been paid as per 80:20 formula. But this comes as a disappointment for sugarcane farmers as they were expecting the full amount in one installment only.

The current minimum selling price is between Rs 2,900 to Rs 2,950. As per the current market rate, the bank pays 85 per cent to sugar mills, and the amount goes into transportation, crushing and other essential modes, which make millers incapable to make a one-time payment of FRP.
The downfall of sugar prices has created financial distress amongst mills and farmers. The government intervention will help to overcome sugar crisis and aid millers to pay FRP to sugarcane farmers.

What steps farmers organisation Will take?
Various farmers organisations in the district are firm on their demand on paying FRP in one installment. However, due to the current industry scenario, it appears, farmers will be paid as per 80:20 formula. Now, all eye is on farmers association that what steps they take to tackle this.