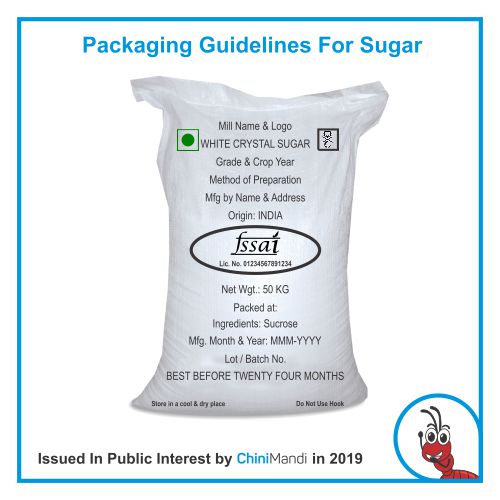 Food labeling serves as a primary link of communication between the food manufacturer and consumer. Food labels provide information to help us make healthier and safer food choices. The goal of food labeling is to provide consumers with information that is factual & relevant.
Bulk consumers like ITC also emphasize that sugar millers should abide to the FSSAI guidelines while packaging of sugar which will protect the commodity from any atmospheric contamination or change in sensory properties or composition and enhance.

The FSSAI guidelines for packaging of sugar direct that:
The information on the label shall be in English or Hindi in Devnagri script. Any other language in addition may be used. The information shall not be false, misleading or deceptive.
Veg. Food Symbol – Required
Regulation provides that every package of "Vegetarian" food shall bear a green color filled circle inside a square with green outline
Symbol of Handling
Display symbol of "no hook" to be shown on any top corner of the bag
Brand Name/Logo – Required
The brand name of the product is to be mentioned. The name of the food shall include trade name or description of food contained in the package that describes the true nature of the food.
Commodity Name
It should contain the name of the commodity in which they will be "white crystal sugar" or "White refined sugar" etc.
Grade
The grade of the sugar should be mentioned
Method of Preparation – Required
It is important to mention the method of preparation
Manufactured By Declaration – Company Name with complete address
The name and complete address of the manufacturer and the manufacturing unit if these are located at different places.
FSSAI Logo – Required
The FSSAI logo
FSSAI License. No. – Required
License number shall be displayed on the label in the contrast of the background.
Net Weight Declaration including Pack Config. – Required
Net quantity by weight or volume or number, as the case may be, shall be declared on every package of food.
Manufacturing Date/Packaging Date – Required
In case best before date of the products is more than 3 months, month and year of manufacture or packing shall be declared. In case of shorter shelf life of less than 3 months the date, month and year of manufacture or packing shall be declared.
Best before Declaration
The month and year in capital letters up to which the product is best for consumption, in the following manner:
"BEST BEFORE …… MONTHS AND YEAR" OR
"BEST BEFORE …….. MONTHS FROM PACKAGING" OR
"BEST BEFORE …….MONTHS FROM MANUFACTURE"
Storage Condition – Store in a cool, dry & hygienic place
Nutritional Information (per 100g per serving size) – Optional
Packed at – if co-packedIn case the manufacturer is not the packer the name and complete address of the packing unit as the case may be.
MRP – Not Required
A batch number or code number or lot number shall be declared on the label.
Lot No. & Batch No. – Required
A batch number or code number or lot number shall be declared on the label.
Ingredient List – Not required for single ingredient food