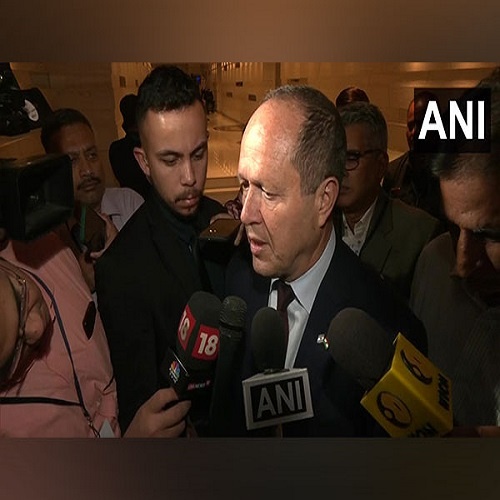 New Delhi [India], April 18 (ANI): The Free Trade Agreement (FTA) between Israel and India will be discussed on Tuesday, Israel's Minister of Economy Nir Barkat said adding that the Indian economy is rising to be the third in the world.
Replying to a media query over FTA between India and Israel, Barkat said, "I'm going to be discussing it with the ministers today."
Talking about the sectors that will figure in their discussions, the minister said the talks will be on wide-ranging sectors to enable more and more trade and "free trade brings people together".
"I assume it should be in what we call there's a new couple of sectors that we provide. For example, agrotech food tech, creating food from the sea, and health tech. These are all tech-related ideas that Israel has a lot to offer, translating into a lot of trade in both directions. So from my perspective, we're coming as open as possible," he added.
He further stated that India's economy was on course to becoming to be the third largest in the world, adding that India and Israel have a "classic" partnership.
The first round of negotiations and talks on FTA was held in May 2010 but the deal came out as elusive.
Earlier, Barkat attended the India-Israel Business Forum where he said that Indian people are "good friends" of Israel. "We share the same values including democracy, human rights and respect for others, and face similar challenges in security and economy," the Confederation of Indian Industry (CII) quoted Barkat as saying.
CII tweeted, "Today, 10% of Israel's labour is tech-oriented. For a small economy like Israel, we need to grow that number to 25% in the next 20 yr. For us to scale to that number, we need to open our markets and India is a great solution for our growth: Barkat."
Noting that the world was moving swiftly ahead, he added, "We need to bring our experience from entrepreneurs & managers back to the #education system. The key factor for speeding growth would be how we transition from old jobs to new ones."
The Israel-India Business Forum was also graced by Israel's ambassador to India Naor Gilon, who said the strategic relations between India and Israel are not only in name but in deed as well.
The bilateral trade between the two nations has increased 40 times since the establishment of formal diplomatic relations in 1992, according to CII. (ANI)