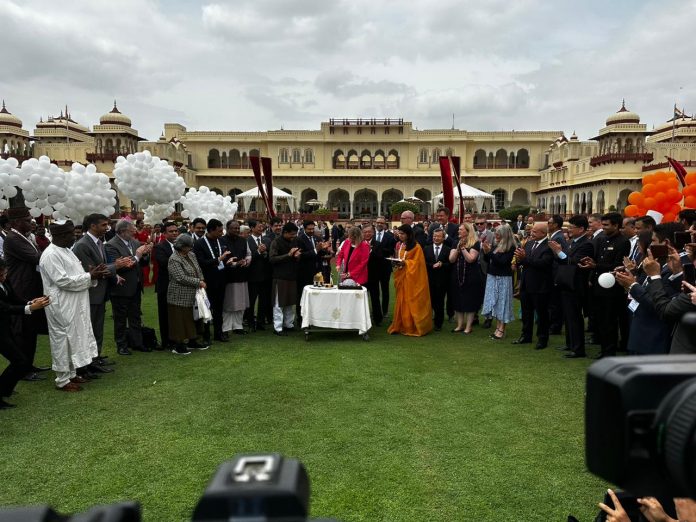 Jaipur (Rajasthan) [India], August 24 (ANI): Trade Ministers from major G20 Countries on Thursday congratulated India for the successful landing of Chandrayan-3 on the Moon, said Piyush Goyal, Minister, of Commerce and Industry, Government of India.
The G20 Trade and Investment Ministers meeting started on Thursday in Jaipur.

Union Commerce Minister Piyush Goyal and other G20 trade ministers set flee the tricolour balloon to celebrate the successful landing of Chandrayan 3 at the South Pole of the Moon. Trade Ministers of Netherlands and Oman jointly cut the cake designed as Chandrayan 3.
"Trade Ministers from major G20 Countries were here and all of them congratulated India for the successful landing of Chandrayan-3 on the Moon. They congratulated our Prime Minister Narendra Modi and the people of the country for this big achievement", he said.
"In G20 Trade and Investment Ministerial Meeting (TIMM), we also discussed how to increase trade among G20 countries. We also discussed how underdeveloped countries can contribute to global trade. Now we can encourage more MSMEs and strengthen the World Trade Organisation (WTO)," Goyal added.
Talking about the Free Trade Agreement with the United Kingdom, the Minister said that talks with the UK are going on and progressing extremely well.
"We are both confident that we will come out with a very balanced, equitable and fair agreement in the future. I have never put out a deadline as you are aware. I believe we have to talk with sincerity ensuring balance and equity. We are both committed to come up with a solution for both countries and I hope that it can happen at an early date", he said.
Goyal also spoke about the FTA with the European Union (EU) and said, "We have a wonderful dialogue with European Union countries. It's a condemnation of 27 countries. We have to assess various aspects of the trade agreement with a length of 27 different countries with whom we are entering with agreement."
Speaking about FTA talks with the Middle East countries, Goyal said "Undoubtedly our relations with the Middle East are on a growth trajectory. We are in dialogue with many of the GCC countries, and the Middle East countries for greater engagement in trade and furthering the shared interests of prosperity for both the GCC region and India."
"We have lakhs of Indians working in the Middle East and contributing to their economy, also contributing to the Indian economy. We have large investments coming from the GCC countries," Goyal said.
"We already have a Comprehensive Economic Partnership Agreement with UAE. The GCC countries led by Saudi Arabia have also expressed a desire to quickly get back onto the negotiating table to discuss potential agreements with the GCC countries. Many GCC member nations have also approached India individually with a request to enter into a bilateral agreement," he added. (ANI)