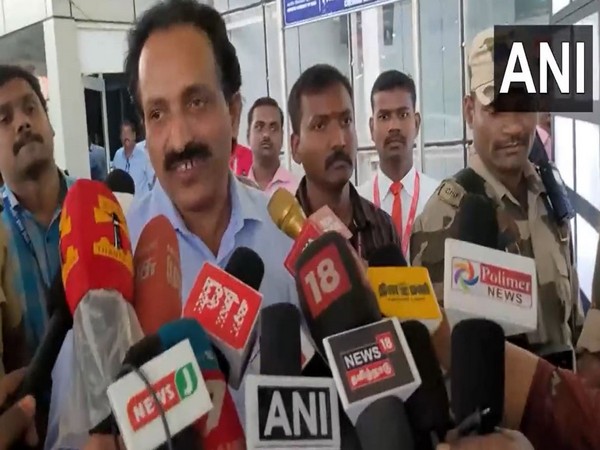 Chennai (Tamil Nadu): Indian Space Research Organisation chairman S Somnath on Saturday said that the crew module, separated from the Gaganyaan mission's test vehicle, has been successfully recovered from the Bay of Bengal.
"The crew module has been fully recovered from the sea (Bay of Bengal) and it has been brought to Chennai port. There has been no anomaly. All data looks very good. A series of missions-20 tests have to be done. Today's test was for the crew escape system," Somnath said.

ISRO successfully conducted the first test flight of the 'TV-D1' (Test Vehicle Development Flight 1) in the Gaganyaan Mission from the Satish Dhawan Space Centre (SDSC) in Andhra Pradesh's Sriharikota after it was aborted at 8:45 am today due to a problem in the engine ignition.
ISRO Chief Somanath informed that the purpose of this mission was to demonstrate the crew escape system in the mission was achieved.
"I am very happy to announce the successful accomplishment of the TV-D1 mission. The purpose of this mission was to demonstrate the crew escape system for the Gaganyaan program through a test vehicle demonstration in which the vehicle went up to a Mach number, which is slightly above the speed of sound, and initiated an abort condition for the crew escape system to function," he said.
The mission objectives of the TV-D1 launch were flight demonstration and evaluation of Test Vehicle subsystems; flight demonstration and evaluation of Crew Escape System including various separation systems; crew module characteristics; and deceleration system demonstration at higher altitudes and its recovery.
The Test Vehicle is a single-stage liquid rocket developed for this abort mission. The payloads consist of the Crew Module (CM) and Crew Escape Systems (CES) with their fast-acting solid motors, along with CM fairing (CMF) and Interface Adapters.
This flight simulated the abort condition during the ascent trajectory, corresponding to a Mach number of 1.2 encountered in the Gaganyaan mission. This mission represents a significant milestone in India's effort to demonstrate that it is possible to send humans into space.
The Gaganyaan project envisages a demonstration of human spaceflight capability by launching a crew of three members into an orbit of 400 km for a 3-day mission and bringing them safely back to earth by landing in Indian waters.
This programme will make India the fourth nation to launch a manned spaceflight mission after the US, Russia, and China. (ANI)