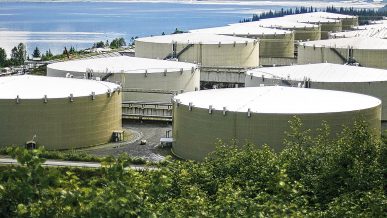 Global oil majors such as Saudi Aramco, Abu Dhabi National Oil Corporation (Adnoc) and oil traders such as Vitol Group, Trafigura Group and Glencore have indicated their interest in partnering India for setting up strategic crude oil reserves in the country.
The government plans to call for bids for partnership in building strategic crude storages at Chandikhol in Odisha and Padur in Karnataka on a public-private mode.

Oil ministry officials said: "Considering the growing energy demand in the country, global players have shown interest in partnering in setting up strategic crude reserves in the country."
The government plans to hold roadshows in the coming months in London, Singapore and New Delhi and test the waters on the kind of partnership model the global players are interested in.
The government will seek $1.5 billion in investments from global oil producers and traders to build the two reserves.
Getting investors to build the storage facilities will lessen the strain on state finances and help the government meet its budget goals while expanding strategic petroleum reserves to shield the economy from oil price volatility.
India meets about 82 per cent of its crude needs through imports.
Officials said the envisaged PPP model would offer incentives to "stakeholders looking to profit from this business alliance ranging from supply-side assurance of downstream refiners; logistics and location advantage and availability
of low-cost underground storage facility as an economical storage alternative".
Other benefits include flexibility of multiple grade crude oil and multiple revenue streams; suitable land parcel and geological setting for creation of SPR and promising opportunity for financing.
According to energy demand estimates by oil cartel Opec, the world oil demand is expected to increase 14.5 million barrels a day (mbd) to 111.7mbd in 2040 from 97.2mbd in 2017. India will account for a growth of 5.8mbd, which represents 40 per cent of the overall increase.
Right of first use
While India in times of emergency would have access to crude, the oil producers who use the storage can take advantage of the price fluctuation and greater market access to countries in South Asia by reducing the shipping time.
The move will enable the government to fill up the strategic crude storage without spending a penny and also have the right of first use in the case of emergency while getting rent from global players for using the caverns.
At present, refineries have an in-built capacity of 65 days; 10 days have been added under the phase one and phase two will add 12 days.
The one in Visakhapatnam is filled with 1.33 million tonnes (mt) of oil purchased by the government, while another in Mangalore (with 1.50mt capacity) has been half-filled by the government and another half leased to Abu Dhabi National Oil Co. The third in Padur, Karnataka, is built but awaiting oil for storage.
The NDA government in June approved the construction of additional 6.5mt reserves at Chandikhol and Padur, which together will help support 22 days of the country's crude requirements.