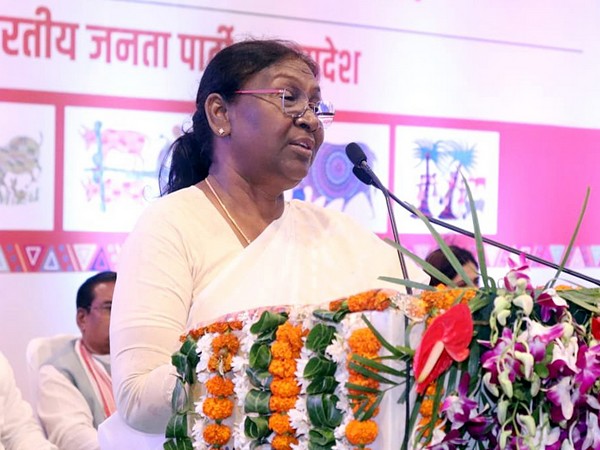 New Delhi [India], September 12 (ANI): The First Global Symposium on Farmers' Rights (GSFR) was inaugurated today by the President of India, Droupadi Murmu, in a ceremony held at the ICAR Convention Centre, National Agricultural Science Centre, New Delhi.
This significant event brought together over 700 delegates from 59 countries, including farmer bodies, policymakers, scientists, researchers, industry representatives, and government officials, to discuss and promote the crucial rights of farmers worldwide, read the Ministry of Agriculture and Farmers Welfare press release.
In her address, President Murmu expressed her delight that India had been chosen as the host for this symposium, given its rich agricultural, cultural, and ethnic diversity.
She welcomed the delegates with the philosophy of "Vasudhaiv Kutumbakam," emphasizing the world as one family, a deeply rooted concept in Indian culture.
She acknowledged the tireless efforts of farmers who have preserved traditional crop varieties, which have become the foundation for modern crop breeding programs, ensuring food and nutritional security for both humans and livestock, read the press release.
President Murmu highlighted the significance of recognizing farmers as primary food producers, often referred to as "annadatta" (providers of food).
She emphasized that food sustains life and is essential for any productive endeavour, making it paramount to salute farmers and safeguard their rights and future.
Union Minister of Agriculture and Farmers Welfare, Narendra Singh Tomar, welcomed the President and emphasized the importance of conserving agricultural biodiversity for the survival of ecosystems, read the release.
He recognized that India's rich agricultural heritage has thrived due to farmers' dedication to nurturing and developing various plant varieties. These varieties not only contribute to livelihoods but also underscore the profound connection between nature and culture.
The symposium is being hosted by India from September 12 to 15 and is organized by the Department of Agriculture and Farmers Welfare (DA&FW) in collaboration with the Protection of Plant Varieties and Farmers' Rights (PPVFR) Authority and in partnership with the Indian Council of Agricultural Research (ICAR), ICAR-Indian Agricultural Research Institute (IARI), and ICAR-National Bureau of Plant Genetic Resources (NBPGR), read the release.
The GSFR aims to facilitate the implementation of Farmers' Rights by Contracting Parties of the International Treaty on Plant Genetic Resources for Food and Agriculture.
Discussions at the symposium will revolve around innovative approaches, effective policies, best practices, knowledge sharing, and experiences related to Farmers' Rights. Additionally, it will serve as a platform to recognize farmers as conservers of agrobiodiversity and guardians of global food security. (ANI)