In a notification issued on the 18th day of 2021, the Department of Food & Public Distribution released an advisory to the Indian sugar industry regarding the upcoming sugar season 2021-22.
In the past few years, sugar production in India has been consistently more than the domestic consumption thereby creating a surplus situation. With a view to address the problem of surplus sugar in the country, the Central Government has taken various ameliorative measures and is continuously encouraging sugar mills to divert surplus sugar to ethanol and is also facilitating export of sugar so that liquidity of sugar mills is improved. Export of sugar has also helped in maintaining demand-supply balance and stabilizing domestic sugar prices.
With the international prices of sugar increasing substantially in the past one month along with many sugar mills having signed forward contracts for export in the ensuing sugar season; mills that have not yet decided on export of sugar, have been advised to take an immediate call and may sign contracts to export sugar in the ensuing sugar season, to take advantage of the high international prices.
According to reports coming from international markets and trade sources, sugar production in the current sugar season in Brazil has been badly affected by extreme weather conditions caused by drought followed by frost, indicating global sugar deficit; the next sugar season in Brazil would commence in April 2022. Also, sugar production in Thailand is likely to remain high in comparison to previous years; but Thailand sugar would come in the market only after January, 2022. Thus, Indian sugar mills have a good opportunity to export their surplus sugar between the period from August, 2021 to January, 2022.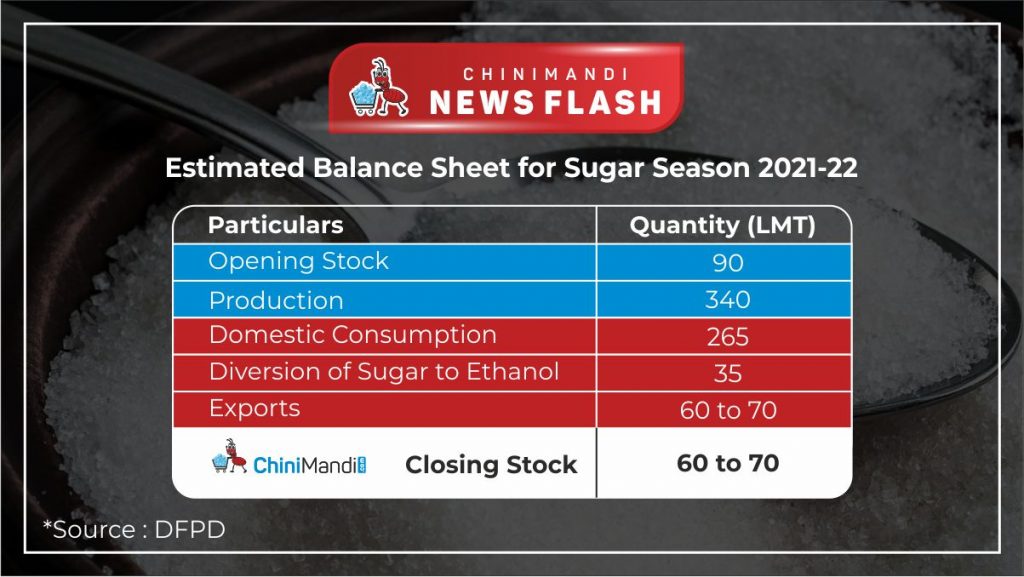 The demand of Indian raw sugar in the international market is very high hence domestic sugar mills have been directed to plan for raw sugar production for export in the ensuing sugar season 2021-22 right from the very beginning of the season and should sign forward contracts with the importers to take advantage of high international prices of sugar and global deficit.
Sugar mills exporting sugar and diverting sugar to ethanol would also be given incentive in the form of additional monthly domestic quota for sale in the domestic market.
Diversion of maximum sugar to ethanol & export of maximum sugar would not only help in improving the liquidity of sugar mills enabling them to make timely payment of cane dues of farmers, but would also help stabilizing ex-mill price of sugar in the domestic market, which in tum will further improve the revenue realization of sugar mills & would address the problem of surplus sugar.