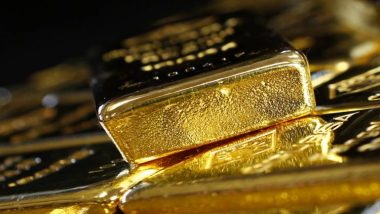 Gold prices rose on Monday as Asian shares resumed their fall and investors grappled with the impact of the ongoing Sino-US trade war and higher US interest rates.
Spot gold was up 0.4 percent at $1,222.0 an ounce at 0417 GMT, and not far off last week's two-month high of $1,226.70.

U.S. gold futures were up 0.2 percent at $1,225.60 an ounce.
"Gold is closely following the stock market. When stock markets are not stable, there is some safe haven buying," said Ronald Leung, chief dealer, Lee Cheong Gold Dealers, Hong Kong.
"There are many uncertainties ahead for equities including the ongoing trade war, upcoming mid-term elections in the U.S., along with an expected interest rate hike in December … We will have to see how gold reacts to these."
Asian shares slipped on Monday, with MSCI's broadest index of Asia-Pacific shares outside Japan down 1 percent.
"Gold is more appealing after the stock market crash. It has regained some of its safe haven lure," said Brian Lan, managing director at Singapore dealer GoldSilver Central.
A sell-off in equities last week, helped gold break above the narrow trading range of the past 1-1/2 months, with the metal jumping as much as 2.5 percent on Thursday, its biggest one-day percentage gain in more than two years.
"Gold remains supported by escalating geopolitical tensions… Adding to the mix is the thought the FOMC may consider pausing their widely expected rate hike in December if global equity markets continue to falter," said Stephen Innes, APAC trading head at OANDA in Singapore.
"An abrupt shift in Fed policy will likely lead to a lack of confidence in the world's most important central bank and could destabilize markets further."
The Fed hiked rates last month for the third time this year and is expected to raise them again in December.
Gold remains down by more than 10 percent from its April peak, pressured by a strong dollar as the U.S.-China trade war unfolds and higher U.S. interest rates.
China faced "tremendous uncertainties" due to the impact of tariffs and trade frictions, China central bank governor Yi Gang said on Sunday.
Gold speculators extended their net short position on Comex gold contracts by 29,881 contracts to 103,009 contracts in the week to October 9, data showed.
Spot gold may edge up to $1,235 per ounce, as suggested by a Fibonacci ratio analysis, according to Reuters technical analyst Wang Tao.
Meanwhile, holdings in SPDR Gold Trust, the world's largest gold-backed exchange-traded fund, rose 0.76 percent to 744.64 tonnes on Friday.
In other precious metals, palladium rose 0.5 percent to $1,071.10. Silver was up 0.6 percent at $14.63 and platinum gained 0.5 percent to $840.50.