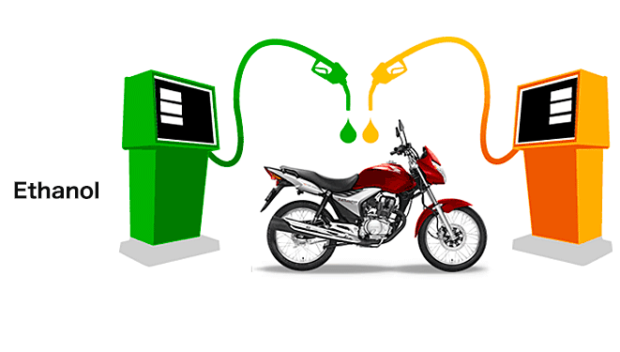 The Union Cabinet headed by Prime Minister Narendra Modi has approved the National Policy on Biofuels that will enable the production of ethanol from damaged foodgrains, rotten potatoes, corn and sugar. The government hopes to cut oil imports by Rs 4,000 crore this year along with the introduction of this policy. Until now the ethanol was produced from sugarcane was allowed to be mixed in petrol.
A meeting of the Union Cabinet, headed by Prime Minister Narendra Modi, approved the new policy which categorises biofuels as First Generation (1G), which produce bio-ethanol from molasses and bio-diesel from non-edible oilseeds. Second Generation (2G) ethanol can be produced from municipal solid waste and Third Generation (3G) fuels like bio-CNG.
Earlier, Ministry of Road Transport had encouraged two and three-wheeler manufacturers to bring in products that run on 100 percent bio-ethanol that is made out of rice and wheat straw. Automakers including TVS Motor Company and Bajaj Auto is already working to roll out two and three wheelers running on biofuels. Nitin Gadkari had said, "I told the management of Bajaj and TVS to make ethanol-based bike and auto rickshaws. They made it. I am giving them permission and the auto rickshaws or bikes or scooters will run on 100 percent bio-ethanol."
Under the said policy, "a viability gap funding scheme for 2G ethanol biorefineries of Rs 5000 crore in 6 years in addition to additional tax incentives, higher purchase price as compared to 1G biofuels" will be provided, it said. Mixing of one crore litre of bio-ethanol in petrol saves Rs 28 crore of foreign exchange on oil imports. "The ethanol supply year 2017-18 is likely to see a supply of around 150 crore litres of ethanol which will result in savings of over Rs 4000 crore of forex," the statement said. Besides government expects a reduction of 30 lakh tons carbon emissions. "By reducing crop burning & conversion of agricultural residues/wastes to biofuels there will be a further reduction in Green House Gas emissions," it said.
Advantages Of Bio-Ethanol Fuel:
– Bio-Ethanol fuel being promoted is indeed a cost-effective compared to other biofuels and certainly over petrol and diesel-powered vehicles. The production of this fuel is least expensive and every country has the capacity to use produce it. Rice, wheat straw and even the likes of corn and sugarcane can be used to make this fuel.
– Use of ethanol over other regular fuel ensures fewer emissions and significantly low levels of toxins in the environment. However, many might argue that the distillation process that requires a lot of heat is not the cleanest way to make bio-ethanol. The harnessing of fuel from rice or wheat is an economical way to sustain an economy and reduce dependency on fossil fuels and create huge employment opportunities as it opens up the untapped agricultural sector.
– Remember, Ethanol is classified as a renewable energy source as the production of ethanol begins with photosynthesis which requires sun.
The biggest disadvantage of using 100% pure bio-ethanol is that its hard to vaporize. This makes starting a vehicle in cold conditions difficult. A solution to that is blending ethanol with petrol but that again is an expensive process.
The statement said Rs 800 crore is investment needed to set up a 100 kilolitre per day biorefinery. At present Oil Marketing Companies are in the process of setting up 12 2G biorefineries with an investment of around Rs 10,000 crore.