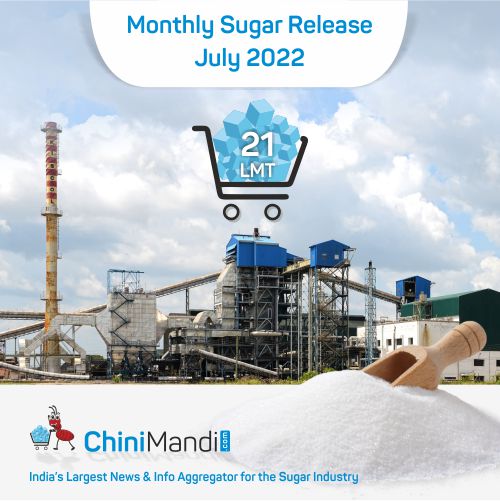 ChiniMandi, New Delhi: In a notification issued on 30th day of June 2022, the food ministry has allocated 21 LMT monthly sugar quota for July 2022 to 499 sugar mills which is 1 LMT lower than the quantity allocated sugar quota in July 2021. In the last month i.e. the allocated sugar quota for domestic sale was 21 LMT.
According to market reports, the average monthly consumption of sugar is 22-23 LMT. Despite monsoon having kicked in, the routine demand will still exist with some small quantities of additional demand coming in due to the Hindu holy month Shravan beginning in the last week of July. Overall, the market looks to remain stable.
The group sugar producing companies having more than one sugar producing unit may maintain the stock as defined in Para (1) of this Order, either unit wise or for the group as a whole. The sugar-mill wise July 2022 been worked out on the basis of the following parameters
The July 2022 stock holding limit has been worked out on the basis of giving 100% weightage to the month end notional stock for the month of June 2022.
The notional month-end stock for the month of June 2022, has been worked out on the basis of month end stock for April 2022 (as reported on P-II) further adding the sugar lifted from sugar mills after 1st August, 2021 for export as per 4.3 Column of P-II (However, the benefit on account of export of sugar restricted to the MAEQ quantity allotted to the sugar mills during the last sugar season i.e. 2020-21) and subtracting actual release for June 2022.
Besides, incentive in lieu of sugar sacrificed for producing ethanol from B-heavy molasses/sugarcane juice/sugar syrup/sugar is being given corresponding to the ethanol production for May 2022.
Click here to view the Notification