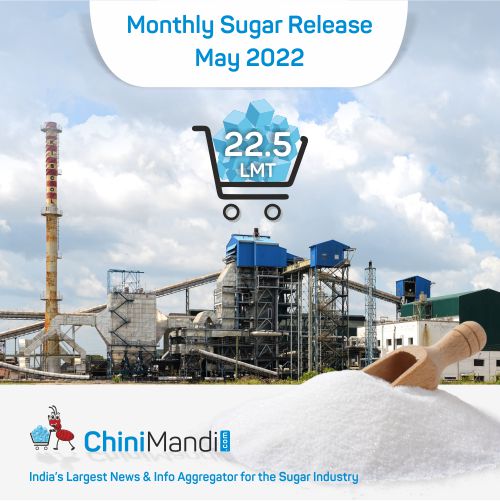 ChiniMandi, New Delhi: In a notification issued on 29th day of April 2022, the food ministry has allocated 22.5 LMT monthly sugar quota for May 2022 to 531 sugar mills which is 0.5 LMT higher than the quantity allocated in May 2021.
According to market reports, in the previous year the country was under a strict nation-wide lockdown however and the allocated quantity was 22 LMT, however with ease in norms and the situation having got better; a surge in demand may be witnessed owing to the seasonal demand. Marketmen are optimistic about sugar prices taking a hike of Rs.80 to 100/Quintal.
The group sugar producing companies having more than one sugar producing unit may maintain the stock as defined in Para (1) of this Order, either unit wise or for the group as a whole. The sugar-mill wise May 2022 been worked out on the basis of the following parameters
The May 2022 stock holding limit has been worked out on the basis of giving 100% weightage to the month end notional stock for the month of April 2022.
The notional month-end stock for the month of March 2022, has been worked out on the basis of month end stock for March 2022 (as reported on P-II) further adding the sugar lifted from sugar mills after 1st August, 2021 for export as per 4.3 Column of P-II (However, the benefit on account of export of sugar restricted to the MAEQ quantity allotted to the sugar mills during the last sugar season i.e. 2020-21) and subtracting actual release for April 2022.
Besides, incentive in lieu of sugar sacrificed for producing ethanol from B-heavy molasses/sugarcane juice/sugar syrup/sugar is being given corresponding to the ethanol production for March 2022.
Click here to view the Notification