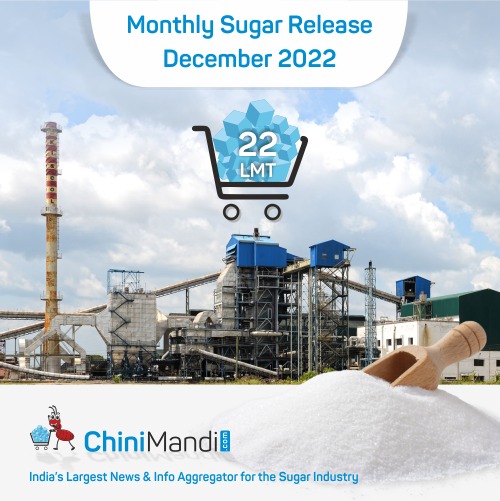 ChiniMandi, New Delhi: In a notification issued on 30th day of November 2022, the food ministry has allocated 22 LMT monthly sugar quota for December 2022 to 558 mills which is 0.5 LMT higher than the quantity allocated sugar quota in December 2021 (21.5 LMT). In the last month i.e. in November 2022 the allocated sugar quota for domestic sale was 22 LMT.
According to a tweet by the Department of Food and Public Distribution, "To ensure stability in sugar prices, a monthly sales quota of 22 LMT for December 2022 has been announced."
To meet domestic demand of sugar at stable prices, Government has released Monthly Sale Quota of 22 LMT of sugar for December 2022. pic.twitter.com/yDBTVvbLER

— Department of Food & Public Distribution (@fooddeptgoi) November 30, 2022
According to marketmen, the quota allocated appears to be very disproportionate despite same quota in comparison to previous month's allocated quota. The major producing states of sugar i.e. Uttar Pradesh and Maharashtra have been allocated lesser quota than the previous month. On the other hand Kartnakata has been allocated with much higher quota. The market sentiments don't seem to be very positive.
The group sugar producing companies having more than one sugar producing units may maintain the stock as defined in Para (1) of this Order, either unit-wise or for the group as a whole.
The sugar-mill wise Maximum quantity of white/refined sugar for domestic sale and dispatch during the month of November, 2022 as given in column 4 of the table, has been worked out on the basis of following parameters:-
The December, 2022 Stock holding limit will be worked out on the basis of giving 100% weightage to the month end notional stock for the month of November, 2022.
The notional month-end stock for the month of November, 2022 will be worked out on the basis of month end stock for October, 2022 and subtracting actual release for October, 2022.
Besides, incentive in lieu of sugar sacrificed for producing ethanol from B-heavy molasses/sugarcane juice/sugar syrup/sugar is being given corresponding to the reported ethanol production for October, 2022.
Click here to view the Notification – Monthly Release Order – December 2022