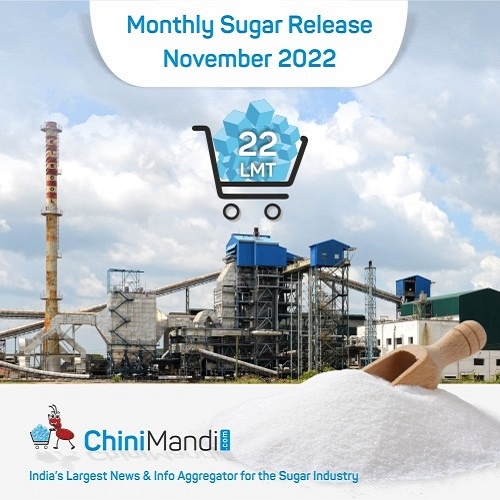 ChiniMandi, New Delhi: In a notification issued on 28th day of October 2022, the food ministry has allocated 22 LMT monthly sugar quota for November 2022 to 408 mills which is 0.5 LMT lower than the quantity allocated sugar quota in November 2021 (22.5 LMT). In the last month i.e. in October 2022 the allocated sugar quota for domestic sale was 23.5 LMT.
According to a tweet by the Department of Food and Public Distribution, "To ensure stability in sugar prices, a monthly sales quota of 22 LMT for November 2022 has been announced."
To ensure sufficient availability of sugar for domestic consumption, sugar mill-wise monthly release quota of 22 Lakh MT is announced for the month of November, 2022. pic.twitter.com/Eics2JoYrV

— Department of Food & Public Distribution (@fooddeptgoi) October 28, 2022
According to marketmen, keeping in cognizance early start of crushing in Maharashtra and Karnataka state and a slight delay in Uttar Pradesh, sugar prices in the first half of the month are likely to remain supportive and range bound in second half of the month as more new sugar starts flowing into the domestic market."
The group sugar producing companies having more than one sugar producing units may maintain the stock as defined in Para (1) of this Order, either unit-wise or for the group as a whole.
The sugar-mill wise Maximum quantity of white/refined sugar for domestic sale and dispatch during the month of November, 2022 as given in column 4 of the table, has been worked out on the basis of following parameters:-
The November, 2022 Stock holding limit will be worked out on the basis of giving 100% weightage to the month end notional stock for the month of October, 2022.
The notional month-end stock for the month of October, 2022 will be worked out on the basis of month end stock for September, 2022 and subtracting actual release for October, 2022.
Besides, incentive in lieu of sugar sacrificed for producing ethanol from B-heavy molasses/sugarcane juice/sugar syrup/sugar is being given corresponding to the reported ethanol production for September, 2022.
All the sugar mills/distilleries are informed that information relating to ethanol production from B-Heavy, Sugar Syrup, Sugarcane Juice shall be filled in the relevant columns of sugar ethanol portal.
The incentive on account of ethanol production from B-Heavy, Sugar Syrup, Sugarcane Juice or Sugar for December, 2021 will only be considered for the sugar mills which are filling data on sugar ethanol portal. However, the sugar mills shall continue to fill the B-Heavy and C- Heavy details in the online P-II portal as well until further orders. In case sugar mill is not able to fill the online P-ll on the portal due to some technical issue; it is informed that P-II may be submitted through email (sugarcontrol-fpd@gov.in) by
10th of every month without any delay.
All Sugar mills are also informed that all sugar mills have to register themselves on National Single Window System (https://www.nsws.gov.in/) NSWS portal. If the sugar mills does not register itself on the portal, no monthly release quota will be given for the month of December, 2022 to those sugar mills.