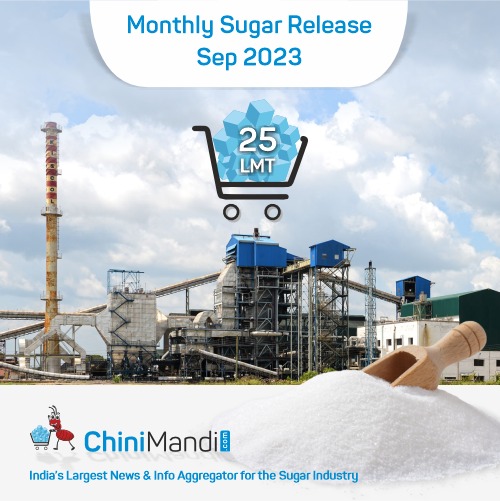 The food ministry has allocated 25 LMT monthly sugar quota to sugar mills for September 2023 which 1.50 LMT higher than the quantity allocated in September 2022. September's quota is 50,000 MT less than than the previous month's domestic quota.
For the month of August 2023, Government had released additional 2 LMT, making total quota to 25.50 LMT.
According to market experts, keeping in view the strong demand for sugar for upcoming festivals high sugar quota has been allocated to sugar mills. The higher quota will keep sugar prices under control.
#MonthlySugarQuota for September 2023 is 25 lakh metric tonnes (LMT). @PiyushGoyal @AshwiniKChoubey @SadhviNiranjan pic.twitter.com/SDQznU8ecH

— Department of Food & Public Distribution (@fooddeptgoi) August 29, 2023
As per government, during the current Sugar Season (Oct-Sep) 2022-23, India is estimated to have production of 330 LMT sugar after diversion of about 43 LMT for ethanol production. Domestic consumption is expected to be around 275 LMT.
Ahead of the festive season, the government is taking steps to control sugar and other commodities prices. In order to prevent the citizens of country from experiencing higher prices, the government has taken proactive measures. Today government cut the price of a 14 kg LPG cylinder by at least Rs 200. The move is aimed at easing the pressure from rising cost of living due to inflation.