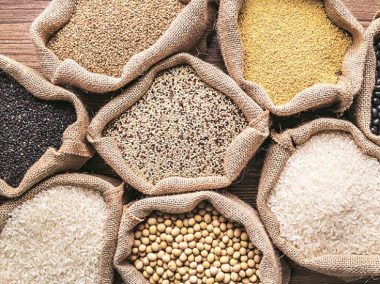 The government is planning to replicate success of the sugar story in pulses and edible oils to achieve self reliance in these two sensitive agricultural commodities in which India remains heavily dependent on imports.
Speaking with Business Standard, Union Food Minister Ram Vilas Paswan said on his recent visit to Mumbai that a substantial quantity of sugar was imported until recently to meet the country's consumption. But, commercialisation of high yielding sugarcane, especially in Uttar Pradesh, has brought India into a massive surplus.

"The government is working aggressively to reduce India's agriculture imports. We have identified pulses and oilseeds to increase local production with high yielding seed varieties. For which, we are focusing on the inter-cropping of oilseeds with other oilseeds in the agricultural land in the north eastern states. We have started educating farmers about the benefit of high yielding seeds and inter-cropping wherever possible. We are sure of getting a positive result in the next couple of years," said Paswan.
Data compiled by the Union Ministry of Agriculture showed India's total cane and sugar output at 306 million tonnes for 2016-17. During the same year, however, industry sources estimate the total sugar production of 23.26 million tonnes.
Introduction of high yielding cane seeds, however, resulted in India's cane output at 377 million tonnes for 2017-18. The apex industry body, Indian Sugar Mills Association (ISMA), however, estimates India's sugar output at 32.25 million tonnes for the same year. During the current year again, expansion in sowing area is set to yield 384 million tonnes of cane and 35-35.5 million tonnes of sugar output during 2018-19 crushing season (October – September).
For pulses, however, India has steadily inched towards higher production. As per the Fourth Advanced Estimate, India's pulses output stood at 25.23 million tonnes for 2017-18. For the current season, however, the government has set a target of 24 million tonnes of pulses production. Affected by lower rainfalls in the major pulse-growing areas, India's pulses output is estimated to remain lower this year.
"The current production of pulses is marginally lower than India's annual consumption of 25.5 million tonnes," said an industry expert.
"Under the ongoing programme, the coverage area has increased and an additional production of 792,000 tonnes of pulses and 112,000 tonnes of oilseeds was obtained during 2017-18. The higher target of area coverage and production has been proposed during current year 2018-19,"said Food Ministry officials while presenting the rabi season agri production programme.
The programme will be implemented in eastern India covering about 80 per cent area of rice fallow under pulses crops and the remaining 20 per cent under oilseeds crops during 2018-19. The Agriculture Ministry has set a target to cover an area of 1.86 million ha under pulses and oilseeds which will contribute an additional production of 1.35 million tonnes of pulses and oilseeds during 2018-19.
"More than half of India's edible oil consumption is met through import. We are working towards increasing our domestic oilseeds production to meet our local needs and reduce import. This will save our foreign currency reserves. For this, however, farmers need to get a remunerative price. The government is working towards doubling farmers' income by 2022," Paswan said.
India imports around 15.5 million tonnes of various types of edible oil (palm and refined) from various countries including Indonesia, Malaysia and Argentina to meet its domestic consumption of around 26 million tonnes. The Ministry of Agriculture has set a target of 36 million tonnes for the season 2018-19 compared to 31 million tonnes of output reported for 2017-18.