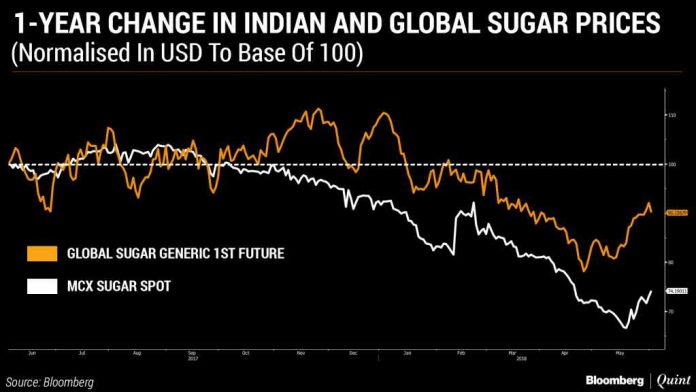 A goods and services tax panel still awaits Attorney General KK Venugopal's opinion on a special cess to compensate sugarcane farmers as prices have plunged and cash-starved mills struggle to clear cane dues.
"The special cess of Rs 3 per kilogram over and above 5 percent GST on sugar, if implemented, will be used to create a welfare fund to settle farmer dues," said Sudhir Mungantiwar, finance minister of Maharashtra. He is part of the five-member group of ministers' panel formed by the GST Council to review a proposal of levying the special cess.
No decision, however, was taken on the imposition of the cess. The panel met for the second time in Mumbai on June 3. The other options it's exploring are a higher production-linked subsidy and reducing the goods and services tax rate on ethanol.
The third meeting of the panel, for which the date has not been decided yet, will happen in Delhi, Mungantiwar said.
The GST on ethanol may be reduced to 5 percent from 18 percent as the government reviews a proposal to offset the drop in sugar prices by increasing the production of ethanol.
Sugar output in the world's second-largest producer touched 310 lakh tonnes till April 30 in the current season—60 lakh tonnes more than the estimated annual domestic consumption, according to data by the Indian Sugar Mills Association. This led to a surge in arrears to farmers at over Rs 20,000 crore. Price of the sweetener in the world's largest sugar consumer declined nearly 26 percent since June 2017 against a 10 percent drop globally, according to the commodity exchanges' data compiled by Bloomberg. Till April 30, Uttar Pradesh's production was the maximum at 112 lakh tonnes, followed by Maharashtra at 106.5 lakh tonnes, according to data from ISMA.
"India's biggest challenge is that its sugar production is much higher than its consumption," Mungatiwar told reporters.
Earlier in May, the Cabinet Committee on Economic Affairs approved a production-linked subsidy of Rs 55 per tonne, or Rs 5.5 per quintal, for cane farmers.
"The government can either increase the existing production-linked subsidy of Rs 55 a tonne to Rs 110 a tonne to support the mandatory 20 lakh tonnes of sugar export or increase the ethanol production to offset the falling prices," Mungatiwar said.
Once the panel's report goes to the GST Council, other states will also express their opinion and then it will be taken up for discussion. The final report will be discussed at a meeting in Lucknow and the decision is expected in 30-45 days, he said.