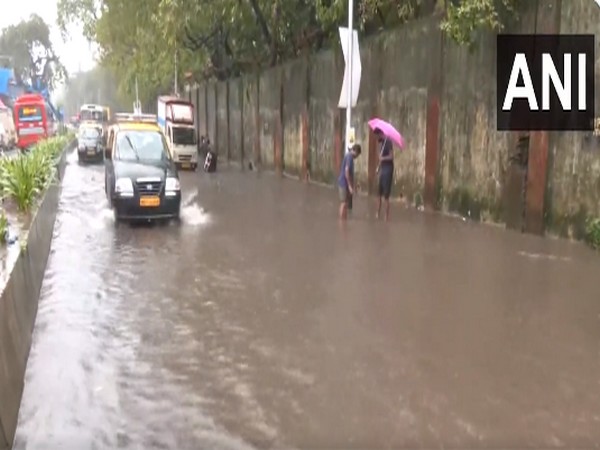 Mumbai (Maharashtra) [India], July 27 (ANI): Amid the heavy rainfall, different areas of Mumbai city witnessed waterlogging on Thursday. The visuals came from Cuffe Parade, Mumbai show people crossing roads with water touching their knees.
The India Meteorological Department predicted that Mumbai's this year rainfall will cross the annual average rainfall relying on the remaining part of the monsoon season.
As per the IMD, Mumbai has received over 90% of the average seasonal rainfall till Thursday. The Average monsoon rainfall in Mumbai is 2300 mm and the number has already touched 2128 mm. The number marks 92.5% of the annual average rainfall in Mumbai.
All schools and colleges remained closed in Mumbai city and suburbs on Thursday as the state continues to be battered by heavy rains.
The direction issued by the municipal corporation would apply to all municipal, government and private primary, secondary and higher secondary schools and all colleges.
Municipal Corporation (BMC) said, "In view of the heavy rainfall, BMC Commissioner and Administrator Dr Iqbal Singh Chahal has declared a holiday for all municipal, government and private primary, secondary and higher secondary schools and all colleges in Mumbai city and suburbs for tomorrow, July 27."
Earlier, the India Meteorological Department (IMD) on Wednesday said that Mumbai experienced moderate to heavy rainfall from July 25-26. The Weather Department said that Mumbai recieved moderate to heavy rainfall from 8:30 AM on July 25 to 8:30 AM on July 26."
Mumbai recieved moderate to heavy rainfall from 0830 IST of July 25 to 0830 IST of July 26 Rainfall in mm Santacruz 86.1, Colaba 44.6, Bandra 58.0, Dahisar 112.0, Ram mandir 87.5, Chembur 32.5, Byculla 16.0, CSMT 43.0, Matunga 21.0, Sion 51.0," tweeted the IMD.According to Brihanmumbai Municipal Corporation (BMC) officials, "Out of the 7 lakes that supply water to Mumbai, the Tansa Lake started overflowing today at 4:35 AM." (ANI)