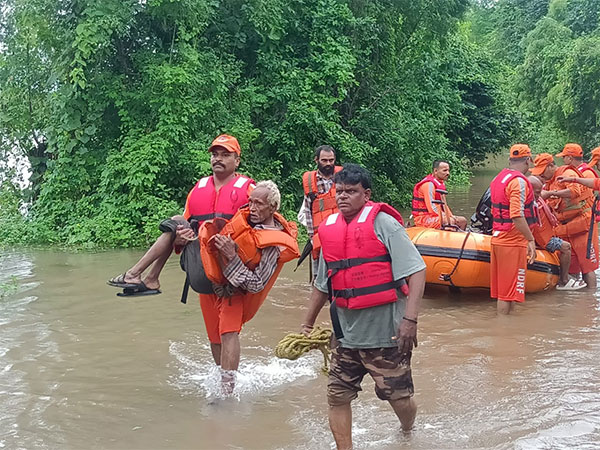 Bharuch (Gujarat) [India], September 18 (ANI): The National Disaster Response Force (NDRF) teams on Sunday rescued as many as 105 people, stranded in low-lying areas in Gujarat's Bharuch district following heavy rainfall in the region.
The rescue operation was carried out at Nikora Village in Bharuch district.
Taking to social media platform, X, Gujarat government's Directorate of Information, said, "#Team6NDRF, with the help of civil administration, rescued total 105 citizens trapped due to heavy rains in low lying area of Nikora Village in Dist: Bharuch #Gujarat and shifted them to a safe place. #GujaratRains #RescueOperations."
Meanwhile, the administration of the Narmada district, ordered schools and colleges to remain shut on Monday, in view of flood reports in many villages after water was released from the Narmada Dam.
Earlier, several villages along the Narmada River were put on alert in the districts of Narmada, Bharuch, and Vadodara due to the increased water levels in the river.
As many as 23 out of 30 gates of the Sardar Sarovar Narmada dam in Kevadia Colony were opened to release 5.5 lakh cusecs of water on Saturday.
Meanwhile, amid a surge in water levels in Narmada, SDRF teams have been deployed in the district.
Narmada Corporation is making careful efforts to maintain the water level in the dam and continuously reduce the impact of floods, they said.
Moreover, Bharuch Narmada is being continuously monitored by most of the staff and officials of the Vadodara district to ensure that the low-lying areas are not affected by floods.
Earlier, an official said there is a possibility of the release of 19 lakh cusecs of water from the Narmada Dam today late at night on September 16, regarding which the district administration has asked the people of low-line areas adjacent to the banks of the river Narmada, such as the villages of Dabhoi, Shinor, and Karjan tehsil, to move to safe places. (ANI)