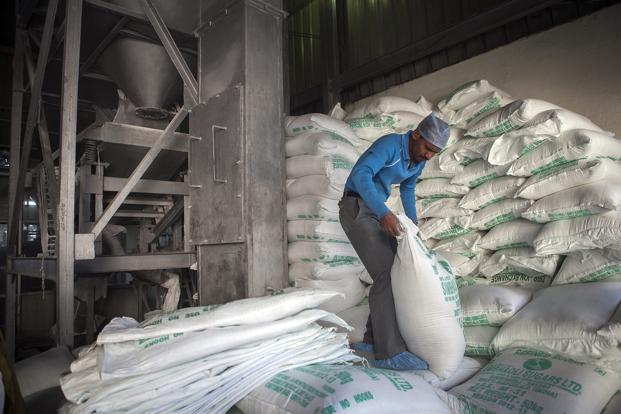 Two developments this week have added to the despair of investors in sugar mills. The government has hiked the central benchmark price for procuring sugarcane in 2018-19. In a free market, prices would have fallen but politics trumps economics in an election year. Sugar mill shares fell on Thursday, reacting to this news.
This week the Indian Sugar Mills Association released preliminary estimates for sugar output in the season starting October. It said the planted area has increased by 8% over the previous year, with sugar output expected to be 35-35.5mn tonnes or 10% higher. Of course, actual output can vary wildly from early estimates. But indications are that the new crop will be as good, if not better. That's bad news enough.
The year 2017-18 saw high output meet low prices, in India and globally. The government has stepped in with a number of sops to support sugar prices, chiefly goaded by mounting cane arrears owed to farmers. Even after these sops, the arrears to farmers remain at Rs17,825crore, according to an 18 July ISMA release, although down by a fifth from the 23 May figure.
What does this mean for mills? While the 2018-19 fair and remunerative price (FRP) has been hiked by 7.8% to Rs 275/quintal, it's for a 10% recovery rate. At the 9.5% recovery rate, the increase is less dire at 2.4%. In a way, this acknowledges the difficult market situation by moderating the increase.
While states such as Maharashtra pay the FRP, Uttar Pradesh fixes a State Advised Price (SAP). How much it increases the SAP by will determine how big a headache it poses for mills. UP-based Balrampur Chini Mills Ltd's management had said, in a conference call after the March quarter results, that their production cost was Rs 31/kg of sugar, against the then ex-mill price of Rs26/kg. Subsequently, the government introduced a minimum sale price of Rs29/kg.
If sugar mills are having a miserable time, they are ensuring the government also funds its populism. If the government sets the cane price, companies sit on cash payments. Since money on paper is of little use for farmers, their anger forces the government to the negotiating table. This is set to repeat in 2018-19 unless prices speak for some unexpected reason.
For now, the government's rescue efforts have worked. The wholesale price of sugar M-30 grade is at Rs34/kg, compared to lows of Rs27/kg in May. But the measures are not all sweet. For example, stock limits restrict how much mills can sell, limiting their revenues and blocking money in inventory. The price may have risen but it's notional to that extent.
The minimum export quota of 2mn tonnes is unlikely to be met, according to India Ratings and Research, as international prices are lower even after considering the subsidy given by the government. It expects the profitability and credit ratios of sugar companies to remain stretched in the current fiscal.
One factor that could turn around sentiment is a surge in global prices. But that is unlikely given the expected sugar glut in India and a few other key producing nations in 2018-19.
Hopes shift to the next year then. Low sugar prices could see crop planting decline in other countries. In India, only bad weather can lower output. The outlook for mills remains bleak.