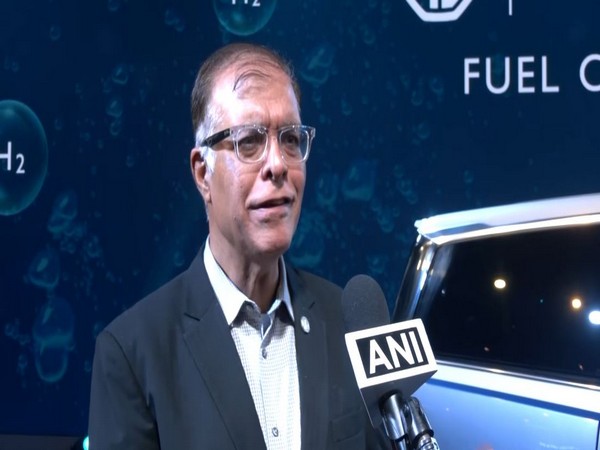 Greater Noida (Uttar Pradesh) [India], January 12 (ANI): Rajeev Chaba, president and Managing Director of MG Motors India has said hydrogen fuel-led mobility is currently in its "conceptual stage" in India, but he was happy to note that the government is really pushing green hydrogen production.
"Right now obviously it's in a conceptual stage in our country and I am happy to say the government is really pushing green hydrogen production right now. I think there are grand plans," Chaba told ANI at the Auto Expo 2023 venue on Thursday.
"I think there are grand plans (by the government)," he said, adding its applications too will spread to varied fields with ramping up of production.
Demonstrating the future of mobility in India with an eye on sustainability, MG Motor India today showcased new energy vehicles with its third-generation hydrogen fuel cell technology, besides displaying its hydrogen fuel-cell multi-purpose vehicle — EUNIQ 7 — at the ongoing Auto Expo 2023.
Fuel cell vehicles that use hydrogen as fuel have significant advantages such as being pollution-free, high efficiency, high load, fast refuelling, and long battery life.
"Hydrogen showcases our fuel-cell technology prowess which is applicable to some of our applications and this (EUNIQ 7) is one of them. Though it's not a concept car but it's a production-ready vehicle…This technology is commercially very pricey at this point of time, so commercial applications are not going to be at a mass level," Chaba said.
"Point is depending on the government's direction, these kinds of technologies can be made available. The whole point of showcasing these cars is to as and when the infrastructure is there and the policies would be there, we would be ready for the vehicle launch in the country."
Further, on the transition to EV, he said, "It will take time, to be honest. Transition is already happening…the numbers in the Indian industry were 2-3 thousand a year last year it was 50,000, and this year hopefully it should be 125,000-150,000 car sales, which again as a percentage of the industry as a whole is not huge but that's good growth."
For hydrogen, he said, it is still a few years away.
Talking to ANI, he also touched upon a crucial aspect of EV making — battery disposal.
"It's not about only the launch of EVs but we need to develop the whole ecosystem and the battery disposal or end of the lifecycle of the battery is a very very important point. And before the disposal we need to think of…can we extend the life of the battery or can we retrieve some of the important and costly elements," Chaba said.
MG Motors is looking at avenues where the second usage of batteries can be done and the automaker said it has joined hands with various stakeholders for such an initiative.
National Green Hydrogen Mission:
Union Cabinet last approved the National Green Hydrogen Mission, which aims to make India a global hub for the production, utilization, and export of such technologies. The initial financial outlay for the mission is pegged at Rs 19,744 crore, which includes research and development activities.
Under this mission, the government aims to raise annual green hydrogen production to 5 million tonnes.
The green hydrogen mission will gradually lead to the decarbonization of industrial, transport, and energy sectors; a reduction in dependence on imported fossil fuels, among others.
India meets a sizable portion of its energy needs through imports, and this green hydrogen mission is seen as an avenue to reduce the dependence on imported fuel. (ANI)