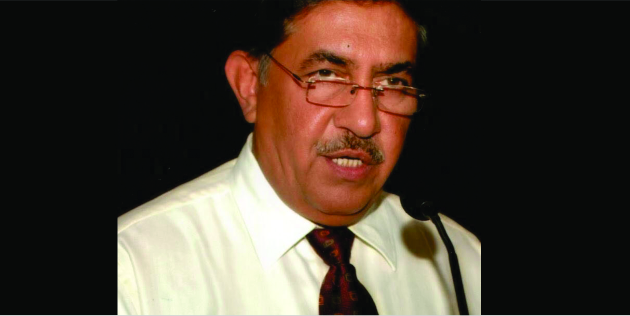 In a conversation with ChiniMandi.com, Mr. Prakash Naiknavare who is the Managing Director of National Federation of Cooperative Sugar Factories Ltd. speaks about the coming years for the sugar industry, what we can expect and more.
Excerpts:

How should the industry balance the equilibrium between more supply and less demand?
All the estimates of the current season i.e. 2017-2018 have gone wrong. The fact of the matter remains that the current year's production is going to touch 290 lakh tonnes as against earlier estimate of 251 lakh tonnes.
The standing crop on ground in the tropical India is indicating another record for 2018-2019. I believe the year of 2017-2018 & 2018-2019 should be clubbed together for considering taking some remedial steps. Currently ex-mill realization is below Rs. 6-7 per kg than production cost. All the concerned stakeholders are flagging the issues for some remedial action as no industry in the world can sustain such a bleeding condition which would undoubtedly make the industry collapse vertically & permanently.
Speaking about demand I can say, over last couple of years there is an anti-sugar campaign being run across the world. Around 29 countries have imposed sugar tax for artificially reducing sugar consumption on the basis of sugar content in soft drinks, chocolates, candies & biscuits. They are imposing taxes to reduce the overall sugar consumption, which is now a danger alarm for the sugar industry especially when India is the highest sugar consumer in the world.
Compared to the previous years in which annual consumption had been increasing by 4.1% whereas now it has diminished to 2.1%. Our estimations of demand are going down, our consumption is going down & production is going up. So, couples of expeditious steps are to be taken. Firstly, physically the stock must go out of country. The government has taken up initiatives i.e. by increasing import duty so that no fresh stock comes into India & they also imposed reverse stock limits on mills. But, these steps haven't really helped.
We are in dialogue with concerned government ministries & PMO. Our submission is to eradicate 20% export duty immediately which is in place since June 2016. When export duty was imposed the scenario was different. There was less sugar in India & to resist it from going out the duty was imposed. The current condition is varying. Hence the export duty should be removed forthwith.
Secondly right next month onwards i.e. from month of April to September at least 15-20 lakh tonnes should be exported because during this period all the mills would be ready with white sugar stocks. We had implemented MIEQ scheme in 2015. On the same line under MIEQ 15 – 20 lakh tonnes should be exported.
Thirdly, Bangladesh Sri Lanka, Indonesia & China are facing sugar deficit. They are unable to meet the demand. Bangladesh and Sri Lanka are under South Asia Free Trade Agreement; SAARC Free Trade Agreement & ASEAN Free Trade Agreement, whereas Indonesia is under barter system. So, we have submitted to the Commerce Ministry that 25-30 lakh tonnes can go through this trade route. Hence 15 lakh tonnes under MIEQ & 25 lakh tonnes if exported are big quantities which will make domestic realization improve.
In addition to that buffer stock should be created. In the years 2002, 2003, 2006, 2007, 2008 & 2009, buffer stock was created very successfully wherein the stock wasn't allowed to go in the market so something similar has to be done for 50 lakh tonnes.
One more thing suggested to the government is to divert B Heavy molasses for ethanol. So, these are couple of demands put in front of the government & the government has responded quite seriously & the announcement of removal of 20% export duty i.e. expected to be happening soon.
What measures should be taken by factories for more efficiency in production?
Presently the machinery of mills has been outdated and we have been producing age old sugar we have been producing the same kind of sugar which is more than 100 ICUMSA & now the time has arrived where we should produce what the market requires. According to me if you see globally the largest share of international trade takes place of raw sugar VVHP with 800-1200 ICUMSA. India has exported 16 lakh tonnes VVHP Raw sugar successfully in the past. So, it is not that the technology is not known. We need to go for the following
1. We need to go for raw sugar
2. We should try for 45 ICUMSA, 60 ICUMSA refined sugars considering the good demand for that & plantation white 100 ICUMSA sugar production be reduced.
3. It is the job of the Federal Bodies to train the millers on new technology & advancements.
What is your opinion on the rumors that cess might be levied by the government?
We have directly checked it with the Joint Secretary on 7th March 2018. It is true that PMO is keen in knowing if there is possibility & feasibility on levying cess of Rs. 1.20 per kg.
My own study says prima facie once the GST has been put in force since July 2017 all the cess has been subsumed. However, there is a provision under Article 270 of the Constitution where the government has the power to intervene and collect cess if both the giver and taker are involved. And in the sugar industry's case both the giver i.e. the consumer & taker i.e. the farmer is present. So, there is a 50/50 chance of the cess to be coming in force. Past experiences exhibit that if the cess is imposed, ex-mill realization deepens & such situation is what I fear!
What is your forecast for the next 3 years on demand & supply?
With my observations & confirmations given by the International & India Meteorology Departments La Nina will be present till July 2018. La Nina is always farmer friendly & gives excellent widespread & abundant rainfall. Hence, I foresee as soon as this season is over there will be very large-scale new sugarcane plantation. La Nina is going to be friendly for increasing cane area during the planting season of 2018. This cane will be coming for crushing in the year 2019-2020. I also see a repeat for the following year as well or somewhere between 2017-2018 or 2018-2019 production. But it is going to be excess. We must be geared up for 3 years. Another factor, from farmer's perspective is that sugarcane is a matter of delight because sugarcane is the friendliest crop because it is protected from both sides i.e. market & price; the crop is getting adequate rainfall. Additionally, the year 2018-19 being an election year, based on the previous experiences the cane prices will be higher & hence I fear that season 2019-20 is going to be a repeat bumper season!
Last year we have seen the cane payment due to farmers at almost zero, this year we are seeing this is building up again, how will the mills manage this situation by falling sugar price as government is more sensitive on this subject?
Cane arrears are part of a dark & worrisome phase not only for farmers or millers but also for the government. The government is very sensitive about this aspect. In fact last year when it touched Rs 22500 crores the government immediately intervened.
Despite of escrow account the cane arrear is more than 6500 crores in Uttar Pradesh but surprisingly with states like Karnataka & Maharashtra, who has no history of arrears have touched Rs.1500 crores & Rs.2800 crore cane arrears respectively.
And because the realization isn't coming out well by the millers due to the production costs being high & by-products fetching fewer prices the government has to intervene on very urgent basis.