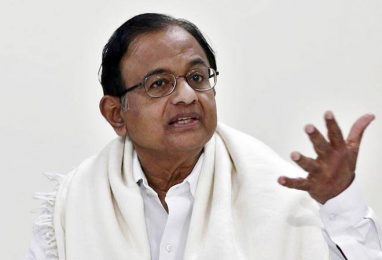 Former Finance Minister P Chidambaram today slammed the government for terming the Goods and Services Tax (GST) as a "celebration of honesty", saying if that was the case, why did the BJP oppose it for five years prior to coming to power in 2014.
In a series of tweets, the senior Congress leader asked the government whether it knew that millions of traders and exporters were affected because their money was stuck and not being refunded promptly after the implementation of the GST regime, which completes one year.
"If GST is a 'victory of integrity' and 'celebration of honesty', why did the BJP oppose it and stall it for 5 years? Why do the PM, FM and Acting FM refuse to speak on the numerous flaws in the implementation of GST?" he asked.
Describing the GST as a fine example of cooperative federalism, Prime Minister Narendra Modi had yesterday said the new system was a "festival of honesty" which had ended 'inspector raj' in the country.
Chidambaram also asked how long can the government use the temporary Form GSTR-3B? "Is it legally valid?"
"Why have GSTR-Form 2 and GSTR-Form 3 not been notified even after 12 months?" he asked.
Filing GSTR 3B form is mandatory for all those who have registered for the Goods and Services Tax (GST). The GSTR 3B is a simple tax return form introduced by the Central Board of Excise and Customs (CBEC) for the month of July and August.
The forms – GSTR-1, GSTR-2 and GSTR-3 – for the months of July and August are to be filed in the month of September.