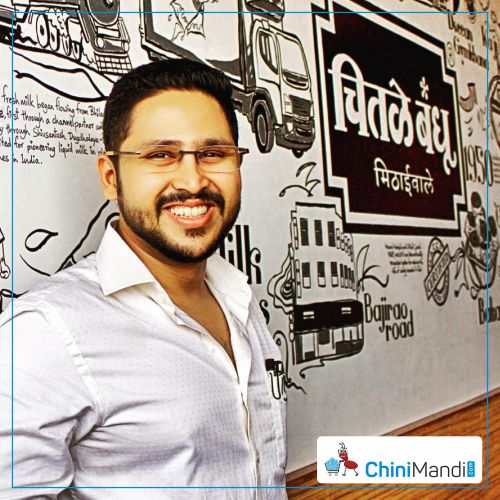 Covid-19 hit several industries across the world, muted its sales and left widespread effects that are yet giving heat. The sugar industry was left no behind. Where experts and analysts are yet to decide on the numbers of drop in world sugar consumption after the unprecedented Covid-19 pandemic and whether the market will face a surplus or deficit, the FMCG sector is learning, innovating and rising from disruptions to put the worst behind and looking forward with optimism and a new-found confidence.
In conversation with ChiniMandi News, Mr. Indraneel Chitale a fourth-generation entrepreneur from Chitale Group, a popular name for sweets, namkeen,instant mixes, pulps, juices, that stands as a widely recognized brand for more than 75 years shared his views on "Consumer pattern and buying behavior after the Covid-19 pandemic." 

Speaking on the consumption pattern of sweets, mithais, chocolates, sweetened / flavored beverages etc. in Maharashtra witnessed due to Covid-19 he shared, "The closure of restaurants, malls, cinema halls, theatres etc had hit the offtake of sweetened products like ice creams, beverages, juices, confectionery, and sweets etc. Nevertheless, in domestic buying or consumption panic buying was witnessed initially when Covid-19 hit the country but with the ease and adaption of the new normal the buying rolled out smoothly and we haven't witnessed a drop in sales.
Though the avenues of sale have changed and if brands didn't have a multi channel sales policy – retail, general trade, modern trade, online, export etc there would definitely be a hit of close to 25% by fy end. Since the beginning of 2021, the demand has been quite steady. But there has also been an increased awareness of non sugar consumption products and we do see the no added sugar(nas) and low GI market growing in % of sales. Amidst this the yearly growth targets will be achieved and can look forward to a positive outlook."
Commenting about the various extra measures taken while procurement of sugar amidst covid-19 pandemic, Mr. Indraneel said, "Lesser handling means lesser risks and lesser chances of contamination – for people and products. Same applied to sugar procurement where automated plant and material handling was preferred for supply along with higher emphasis on testing and COAs."
On being asked about his perspective on stocking of sugar by bulk consumers due to constant rumors of hike in Minimum Selling Price (MSP) of sugar. He answered, "There is a likelihood of a hike so hedging positions on purchase will prove useful to tide over the volatility. Of late, there have been many campaigns on sugar being unhealthy, speaking on how Chitale Group is coping with it and diversifying its products Mr. Indraneel said, "We are a brand that honours the diversity of choices and preferences of our consumers. There have been multiple schools of thoughts indicating sugar to be a risk and we see that in the consumer demand too. Well informed aware consumers are demanding low sugar/alternatively sweetened/ low GI products and we are working closely on widening the range for our consumers. We will soon be creating a health specific sub brand for the healthier choice and enabling our consumers to make a choice as per their priorities. Health will be the focus for Chitale Group. How can we provide better nutrition and healthier alternatives to our current range whilst preserving the tradition and the taste is our focus and we plan to launch 20+ products for this category. We want to evolve from being a celebration partner to a lifestyle enriching partner for our consumer when it comes to food consumption."
In today's multi-faceted environment or retail, achieving, maintaining and enhancing strong brand visibility is more complex than ever. The ever-growing online buying place, increased demand to interact with consumers in a more 'authentic' or connected way, and the decline of more traditional bricks-and-mortar stores are just some of the challenges to be faced. Answering on how an FMCG giant like Chitale is bringing its brands to life for consumers and how it is responding to the challenge of tapping into the growing online market he shared, "It is a multi prong exercise. You can summarise it into 4 quarters.
1. Building great teams that listen and respond
Taking the above into account our teams are in constant efforts to engage with consumers in their journey of digital browsing, socialising and shopping to re-create those impulse purchase trigger moments. Here, we do focus on fulfilling customer demand be it personalisation or premiumisation.
2. Building great products
Building a profitable product, which entices your customers and can prove to be tricky at times but Chitale Group has played well as an anchor with a strong sense of the manufacturing aspects of the FMCG industry and expertise to keep products relevant to modern times.
3. Building communication channels for this
For any industry or any product, scaling heights depends how well we've been engaging with and relating to consumers and their needs. We, at Chitale Group are quite indicative of this wider trend of communication channels and towards establishing a more 'symbiotic' relationship with our customers.
4. Having a feedback mechanism to create right R&D
This beautiful partnership of feedback mechanism hasn't only allowed us to engage directly with consumers and learn more about them but has also directed us towards the right R&D. At many times this mechanism has also allowed us to translate a launch of something on a small scale – such as the exclusive limited-edition."