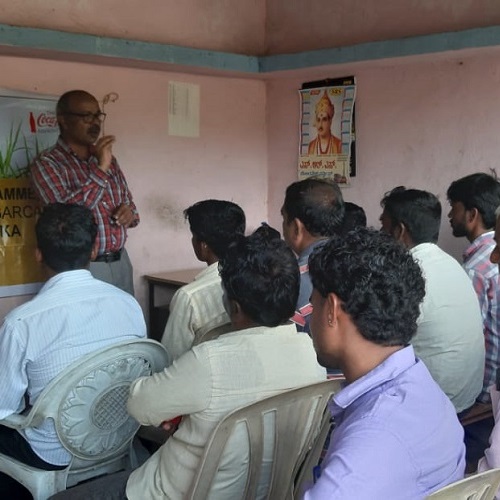 New Delhi: All is not well for Marathwada as the region has reported a dip in the groundwater levels. The southward trend of the water table has adversely impacted on the yield of farmers, in general, and sugarcane farmers in particular. Therefore, several experts are contemplating whether the farmers of Marathwada region should grow sugarcane or not, and if the answer is 'No' then what are the alternatives to secure the income of sugarcane growers? Finding alternative solutions are also important in the light of changes that are taking place in climate, worldwide, and the struggle that farmers are doing to grow different agriculture commodities.
Speaking on the issue, Dr. Alok Pandey, Senior Programme Manager (Sustainable Sugarcane) of Solidaridad Asia, said, "Along with Maharashtra, the states like Karnataka, Tamil Nadu, Uttar Pradesh, Telangana, Gujarat, Punjab, Haryana and Andhra Pradesh that are producing sugarcane and sugar in India. Depleting water table is a great matter of concern in all these states. Since procurement of sugarcane is assured and attractive, farmers are not willing to leave sugarcane farming in all these states. It leaves the agencies with no option but to generate awareness and impart training on climate-smart agriculture. It is also important in this period of climate change to extend the outreach related to awareness and training at the doorstep of farmers, and in time."
Answering how Solidaridad is supporting these aspects, Mr. Pandey said, "Some efforts have been made at the international levels, to improve practices in sugarcane farming, for big farmers but they are of limited use as the landholding size of farmers in India is small. In the context of climate change four aspects – Better Farm Management, Ecosystem, Water & Energy, and Community Rights – should be adequately covered during capacity building and training programmes. Solidaridad has been intervening in states like Maharashtra, Karnataka and Uttar Pradesh and with the help of a tool (Indian Sustainable Sugar Smallholders' Framework) building the capacities of sugarcane farmers on these aspects. Sugar mills are also supporting this effort in their respective areas."
"In fact time has come where sugar mills should come forward and make efforts to protect sugarcane growers from the adverse impact of climate change. This is also important in the light of new bills brought by the government of India, related to agriculture. Engagement of sugar mill to save the interests of sugarcane growers will support farmers to grow sugarcane and to sustain the supply chain of the sugar sector in India. This will indeed promote a better environment for the economy (government) and the owners of sugar mills." he further added.
To Listen to this News click on the play button.