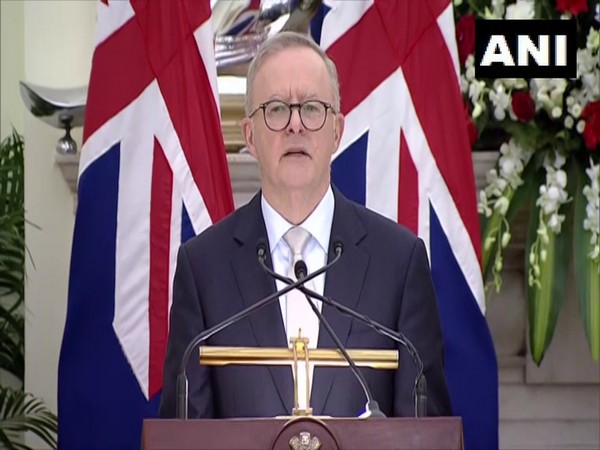 New Delhi [India], March 10 (ANI): India and Australia are working towards a Comprehensive Economic Cooperation Agreement, Australian Prime Minister Anthony Albanese said on Friday emphasising that people-to-people connect have been the foundation of ties between the two countries.
The Australian PM further said that he is hopeful that the agreement will be finalised this year.
Addressing a joint press conference with PM Modi after bilateral level talks were held at Hyderabad House earlier this morning Albanese said that Australia's relationship with India is multifaceted.
Albanese said that high-level contact between the two countries has further strengthened cooperation across many sectors.
"I look forward to hosting PM Modi in Australia for the Quad Leaders summit in May and then returning to India in September for the G20 Leaders summit. The frequent high-level content between Australia and India has further strengthened cooperation across a range of areas including trade & investment, climate and energy, defence and security, and between the people of our two countries."
Last year, both the countries had signed a free trade agreement called the Economic Cooperation and Trade Agreement.
The bilateral trade between the two countries amounts to nearly 27 billion dollars in 2021-22. The bilateral trade is expected to cross 45 to 50 billion dollars by 2035.
The Australian Prime Minister is currently on an official visit to India from March 8 to 11 During the first India-Australia Annual Summit held here today both the countries shared their commitment towards further deepening of Comprehensive Strategic Partnership. Both the nations exchanged MoU for cooperation in sports and audio-visual co-production.
The Indian and Australian side also exchanged Terms of Reference for India-Australia Solar Task Force, Letter of Intent between Atal Innovation Mission and Commonwealth Scientific and Industrial Research Organization..
In the joint press conference today Albanese said that Australia also agreed to strengthen its defence partnerships with India.
"We agreed on an early conclusion of our ambitious Comprehensive Economic Cooperation Agreement as soon as possible. I am hopeful that we will be able to finalise it this year," he said.
He further said that CECA will open new employment opportunities for both countries.
"CECA will open new employment opportunities for both countries. We will finalise and hope for an early conclusion of CECA this year. Australia has eliminated tariffs on 85 per cent of goods exported to India according to the trade agreement signed last year between the two countries," he said.
Based on the recommendation of the Joint Study Group (JSG) in 2010 and subsequent approval of The Trade and Economic Relations Committee (TERC) headed by the then Prime Minister of India on 29.04.2011, India is negotiating with Australia Comprehensive Economic Cooperation Agreement (CECA) covering trade in goods, services, investment and related issues.
Five rounds of negotiations for India Australia CECA negotiations have been held so far. The first round was held in July 2011 and the last i.e. 5th round was held on May 2013 in Canberra.
India and Australia have a long-standing relationship, characterized by shared values of democracy, multiculturism, economic opportunities and most importantly vibrant diaspora with strong people to people links. Both countries value free and open societies, respect for human rights, and the rule of law.
In the fiscal year (2022), India is Australia's 9th largest trading partner. Major exports to Australia include petroleum products, textiles and apparels, engineering goods, leather, pearls, mechanical appliances, iron and steel and gems and jewellery. Major imports include edibles, dyeing extracts, chemicals, wool, minerals and precious stones.
"We discussed a potential agreement to support green projects, solar and hydrogen cooperation which is critical to achieve energy goals. Cooperation in trade, investment, defence, security, climate and energy has strengthened between the two countries," Albanese said.
Both Prime Ministers discussed the Malabar exercise which Australia is going to hold this year.
"We also discussed Exercise Malabar which Australia is honoured to host this year," Australian PM Albanese said.
Australian PM said that he is keen to further expand the presence of Australian universities in India.
"I welcome the significant and ambitious progress under the defence and security pillar of our relationship," he added.
Memorandum of Understandings were also signed in sports and audio-visual co-production agreement and terms of reference for Solar Taskforce exchanged between India and Australia.
Earlier, after a ceremonial reception accorded to him at the Rashtrapati Bhavan ahead of talks with PM Modi, Australian PM Albanese had said India and Australia are great friends and both sides are making the partnership stronger each and every day.
"I thank PM Modi, for a very extraordinarily, generously and warm welcome here. Australia and India are great friends. We are partners and we are building that partnership even stronger each and every day," said Australian PM Albanese.
"I led a delegation here of significant business leaders as well. We want to cooperate with India and build a relationship in culture, economic relations as well as in the area of security," he said.
Albanese further said that both countries are cooperating to make a better world as the cricket teams of both countries are competing to be the best in the world. (ANI)