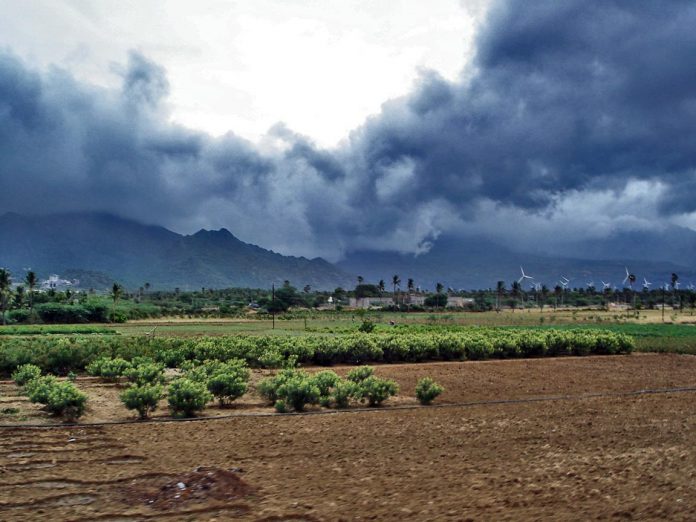 Image Credits: Wikipedia
The June-September monsoon is likely to be 'normal' this year, the Meteorological Department said on Monday, a forecast that could cheer millions of farmers as also the Modi government, battling mounting criticism of agrarian distress.
The south-west monsoon is likely to be 97 percent of the long period average (LPA), implying normal summer rains according to the Indian Meteorological Department's (IMD's) classification.
Monsoon is 'normal' if the volume of rain during the four months is between 96 percent and 104 percent of the 50-year average rainfall of 89 cms. It is classified as below normal if rains are between 90 percent and 96 percent, and below 90 percent is considered 'deficient'.
Skymet, a private forecasting agency, has also predicted normal monsoon this year. The Met will release its next official forecast in June.
The Met Department said that the onset of monsoon of data will be given by May 15 and the next update on monsoon will be in June.
"India will experience third successful year of normal monsoon. Fairly certain India will not experience a deficit in monsoon," said KJ Ramesh, Director General of Meteorology.
This year's forecast comes amid reports of growing farm distress across the country. A massive protest in Maharashtra last month, where tens of thousands of farmers walked nearly 160 kms to reach Mumbai, has become emblematic of growing angst among the farming community in India.
For good farm output, the rains need to be not just plentiful overall, but evenly spread.
There are reports of simmering anger spilling over to other states including poll-bound Madhya Pradesh and Rajasthan, where the ruling BJP governments are fighting anti-incumbency to retain power.
Farmers have demanded a complete loan waiver, and implementation of recommendations made by the Swaminathan Committee report that has suggested that farmers should be paid one and a half times the cost of production.
The Modi government will keep one eye firmly which way the moisture-laden winds are blowing this year. It will be hoping for plentiful rain this summer to prevent farm incomes from sliding, keep inflation genie firmly bottled up and also contain farmers' anger from snowballing into a major political issues ahead of next year's Lok Sabha elections.
Normal monsoon is also critical for keeping the growth engine chugging, with India's GDP projected to grow at about 7.5 percent, the fast among all major economies.
Skymet said the monsoon this year could be 100 percent of the long period average (LPA) with a model error of plus and minus 5 percent.
The 2017 southwest monsoon season saw below-normal rainfall at 95 percent of the LPA, against the India Meteorological Department (IMD) forecast of normal rainfall at 98 percent of the LPA with a model error of plus and minus 4 percent.
Global weather bureaus have indicated that favourable conditions prevail currently with "near-neutral" to "neutral" ENSO (El Nino Southern Oscillation) in the equatorial Pacific Ocean.
ENSO is a weather glitch where above normal sea surface temperatures can lead to scanty summer rains in India.
According the Australia's Bureau of Meteorology that the ENSO had already turned neutral. "The El Niño-Southern Oscillation (ENSO) remains neutral — neither El Niño nor La Niña. Most models predict a neutral ENSO pattern will persist through the southern autumn and winter," it said in its latest report.
Abundant rains can push up rural spending on several items such as televisions, cars and gold. The fast-moving-consumer goods (toothpastes, shampoos and instant noodles among others) and fertiliser sectors would benefit the most from normal monsoon. Likewise, about 40 percent of India's cement demand comes from rural housing. Adequate monsoon, therefore, is critical for steady growth of cement companies.
Below normal monsoon, on the other hand, can negatively impact agricultural and related sectors like fertilisers, agro products, farming equipment (tractors). Rural spending on consumer goods are also crucial for the broader economy. For instance, rural buyers account for close to 40 percent of India's total motorcycle sales.
In 2015, the monsoon was deficient by 14 percent, leading to a crippling drought in 302 of India's 640 districts. In the previous year, the rains were short by 12 percent.
In 2009, when India witnessed its worst drought in three decades, farm output crawled 0.2 percent, battered by 22 percent deficient monsoon rains.