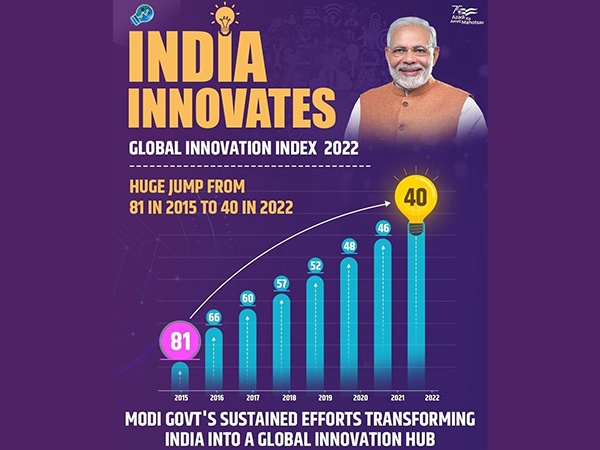 New Delhi [India], September 29 (ANI): India retained 40th position in the Global Innovation Index out of 132 economies, reflecting a remarkable journey from its 81st rank in 2015.
The NITI Aayog, in collaboration with the industry body Confederation of Indian Industry (CII) and the World Intellectual Property Organization (WIPO), Geneva unveiled the Global Innovation Index (GII) 2023 in India.

Sacha Wunsch-Vincent, Co-Editor of the GII and Head of the Economics and Statistics Division, WIPO, commended India, particularly the NITI Aayog, for driving the country's continuous forward march in the GII's global rankings.
He highlighted India's data-driven innovation progress and national-level initiatives. He added that India is in a "sweet spot" for an exciting future innovation journey, drawing, most notably, on its strong, highly educated, entrepreneurially minded, and intellectual property-savvy youth.
Also, India emerged as the numero uno among 37 lower-middle-income group economies and stood tall as the number one innovation performer among the 10 economies in Central and Southern Asia.
India continued to impress by surpassing expectations in relation to its level of development, maintaining its position as an "innovation achiever" for the 13th consecutive year, a release said.
India recorded 34 per cent of total tertiary graduates in science and engineering in 2021, ranking 11th in this indicator.
Among others, India's cultural and creative services exports soared in 2021, up by a substantial 21.4 per cent from the prior year, securing the 18th position in this thriving sector.
"The Global Innovation Index 2023 launch in India exemplifies the nation's unwavering commitment to innovation and its remarkable journey towards becoming a global innovation leader. As India consistently outperforms expectations and excels in various indicators, it stands poised to drive economic growth, foster resilience and embrace self-reliance through innovation," NITI Aayog said. (ANI)