The Indian government on Monday has permitted exports of specified quantities of sugar and other commodities to the Maldives for the financial year 2021-24 under a bilateral trade agreement.
The directorate general of foreign trade (DGFT) has issued a notification stating that the exports will be exempted from any existing or future restrictions/ prohibitions.

The notification stated that, "Export of Eggs, Potatoes, Onions, Rice, Wheat Flour, Sugar, Dal, Stone Aggregates and River Sand has been permitted to the Republic of Maldives under bilateral trade agreement between Government of India and Government of Maldives during the period 2021-22, 2022-23 and 2023­-24 as per the quantities indicated in the Table at Para 1 above. The export of above items to Republic of Maldives will be exempted from any existing or future restriction/prohibition."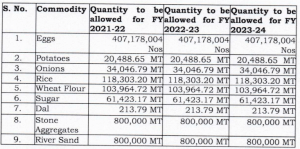 For the export of River Sand and Stone Aggregates, CAPEXIL shall ensure that the suppliers /extractors have obtained appropriate clearances and mining of the sand is not undertaken in the Coastal Regulation Zone Area, which is prohibited under the Coastal Regulation Zone notification.
Sugar quantity allowed to export for the financial year 2021-22 is 61,423.17 MT, 2022-23 is 61,423.17 MT, and 2023-24 is 61,423.17 MT.
To read the notification click here
To receive ChiniMandi updates on WhatsApp, please click on the link below.
WhatsApp Group Link