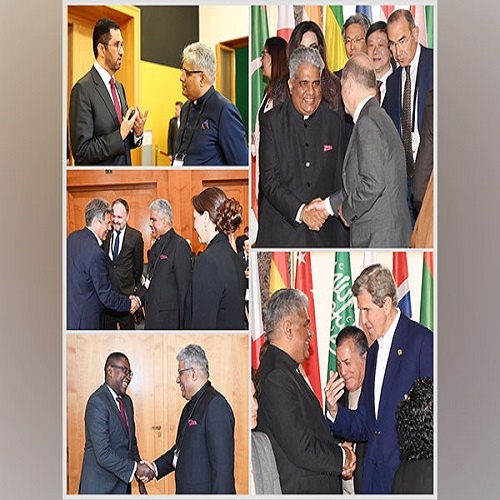 Berlin [Germany], May 4 (ANI): As underlined by Prime Minister Narendra Modi, India reiterated that recognising the need for support towards a "Just, Affordable and Inclusive Energy Transition" is crucial, Union Cabinet Minister for Environment, Forest and Climate Change Bhupender Yadav said.
Union Minister participated in the Petersberg Climate Dialogue which was concluded on May 3 in Berlin with delegates having worked towards laying the groundwork for joint decisions at COP28.
Taking a Twitter, Yadav said, "India put forth its side strongly at the discussions. As has been underlined by PM Shri @narendramodi, at the event it was reiterated that recognising the need for support towards Just, Affordable & Inclusive Energy Transition is crucial in the spirit of leaving no one behind."
"While following the clean energy pathway, to protect livelihood of local population and local economy, which depend on the existing energy system, focus on diversifying the economy and creation of new livelihood opportunities are required," it added.
In the dialogue, there was a broader consensus over the need for a drastic cut in global emissions & a global, binding target for the expansion of renewables, Yadav said.
The Petersberg Climate Dialogue (PCD) is an annual high-level political and international forum that took place from 2 -3 May 2023 ahead of the annual United Nations Climate Change Conferences (Conference of the Parties or COP), according to the statement released by the UN.
Participating in the event virtually, the UN Secretary-General Antonio Guterres called for honesty when facing the climate crisis. "We must be upfront about what this requires: It requires cooperation – rising above geopolitical divisions; Climate justice – developed countries and international financial institutions delivering on long-overdue finance; And cleaning up our economies – breaking our fossil fuel addiction, and driving decarbonisation in every sector," he said.
It is pertinent to mention that the first Petersberg Climate Dialogue, aimed at improving communication between leaders and environmental ministers following the nearly unsuccessful negotiations at the 2009 United Nations Climate Change Conference in Copenhagen (COP15), was initiated by German politician and former German Chancellor Angela Merkel, the statement read.
The meeting took place on April 2-4, 2010 at Hotel Petersberg, located on the hill named "Petersberg" near the German city of Bonn, where the UNFCCC is headquartered. In subsequent years, the Petersberg Climate Dialogue conference was held in Berlin. (ANI)